The Surfing Realtor's 2009 Micronesia Surf Adventure
Sorry this has taken me so long to post – it is now March 2010 and I am finally getting to it!!! Surf has been so good this winter on Maui I just never made the time to type this out – hahaha. I have had many of you ask if I skipped a year and so I thought I had better get it done so that you all still think of me "AS THE SURFING REALTOR".
This year I had a great year of waves! I took a trip to Micronesia in March to surf P-Pass on Pohnpei and had a killer time with Alois and the crew from the Pohnpei surf club. I traveled solo but had met the owner Alois here on Maui last year so had a good connection. It was a bit windy when I was there but we still managed to get a few glassy days and some great surf. I really enjoyed the island style vibe and will make it back there for sure in the future. One of the things that I was not prepared for was how good the fishing was! We caught Mahi and Ono almost every day and also caught some tuna and a nice size marlin as well. It was really a great trip and I would recommend it to everyone!
Aloha.Day One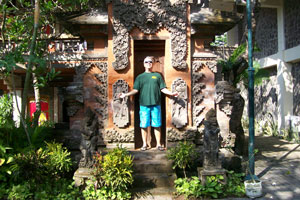 We left Maui and when we got to Honolulu we found out that JAL charged $55 for the first board and $340 for each additional board – being that I had four boards and Steve and Ken had two boards each this was a very expensive lesson. All my boards were making a one-way trip. Our first flight landed in Japan and we had some lunch and beers in one of the small bars. There we met Farmer John from Wisconsin with his daughter. They were on their way to the Philippine islands to introduce his daughter to his future wife. It was fun chatting about his experiences and seeing his daughters face hehehe. We landed in Bali at 11pm and it was my good friend that lives in Bali – Bangs – birthday. He, Narti, Backy and Kate had the beers cold for us and we had some laughs and made fun of how old we are all getting! 

---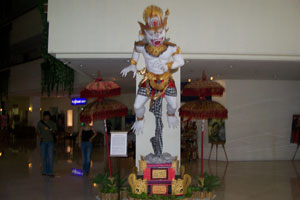 Day Two
Got up late and organized the telephones and laptops – Steve and Ken took a long walk to get a lay of the land as it was their first time to Bali. Had dinner at Anji Si Japanese food and got a good rest.
---
Day Three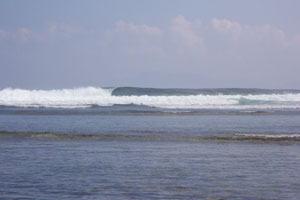 I made the trip to Denpasar to get my mobile modem working as I was having issues – always a few issues in Indonesia!! It turned into an all day adventure. Ken and Steve surfed Kuta reef about 3 foot and fun. Had dinner at Discovery and it was just ok – nothing great like in the past.!
---
Day Four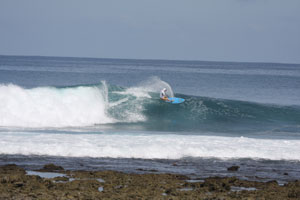 Ken and I surfed the reef about 3 to 4 foot and fun for about 3 hours – Steve was not feeling well (bali belly is so common for first time travelers that it should be mandatory) he slept most of the day. The boys from Oz showed up – Greg, Dave-o and Willo – we all went out to dinner and had a great time.

---

Day Five

Steve still sick – I did some work – yes I work even when I travel!! And checked in with the Gland office for our trip into camp the next day. Steve is thinking about not going in. We have some dinner at Batam Warru and we talk Steve into coming with us – so we got him all packed up. Mia and Gaily and Meg show up (all from Oz) and are going to join us on the boat over to G-land in the morning
---
Day Six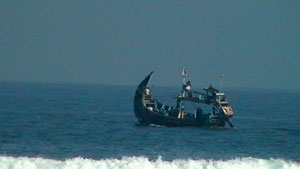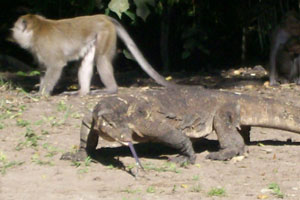 Left for G-land at 6am on the fast boat with Bushy the captain – he had cut his hair so I got to give him a hard time hahaha. Met up with sex shop tony (guess what he does for a living) and Kutut menda (Balinese guy that owns a surf shop in Kuta) and made the trip from Bali to Java. Surf was about 3 foot when we arrived but fun so we surfed for about 3 hours – had a great time on my new 6'3" – early night for all.
---
Day Seven
Surf came up a bit to the 3 to 4' range and ken and I surfed twice – about 5 hours total. I am starting to feel strong in the water and I like it! Steve went out for a short one, as he is still feeling weak. Played some music with Steve after dinner – he is a great guitar player with bang.

---
Day Eight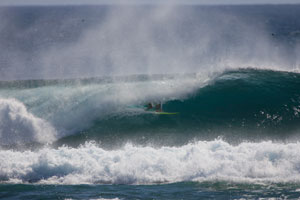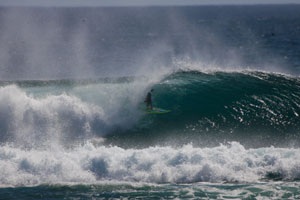 Surf came up some more – 4 to 5' now and surfed for one long session with ken, and the whole crew – I surfed my new 6'8" and got some really good waves – played some music and hung out with Peter Clifford – a long time friend from Margret River – he and I ended up jumping off the cliff a bit – to many beers hahaha…

---
Day Nine
Surf went back down a bit so I did some work in the morning (I have been checking in each day but I really worked today) surf was still 4' and fun so we surfed for about 5 hours mid day then had a big ass party that night – music – dancing girls (our friends girl friends) and guys came over from all three camps. Fabio – a long time Gland personality gave a very interesting speech – not sure what he was saying but it was funnier than shit.


---
Day Ten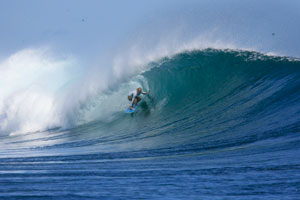 Surf came back up 4 to 6' with a low tide all day – had a new crew of Brazilians come into camp but they where not much of an issue in the water. Dave – o, Greg, Willo and I surfed for over 4 hours and got the best tubes of the trip so far.

---
Day Eleven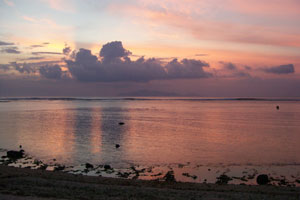 Packed up and left Gland on the fast boat at noon and got back to Bali. Gaily from Oz did some chumming on the way back and took some ribbing about it. We all got cleaned up and the whole crew went to jimbaron beach – bamboo restaurant for dinner – a bit hard to find as it had moved but worth it. Steve, Ken, Bang, Narti, Davo, Willo, brie, Greg, gaily, meg, Jim from the big island with Sara and his son Kenny (who maybe still missing in Bali as we never saw him after that night!) he went out with Gaily and was not seen again. Great food, kilos of prawns with all the trimmings, finger bowels were served and Ken drank his down as well – hahahaha
---
Day Twelve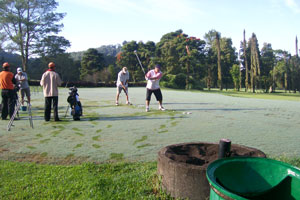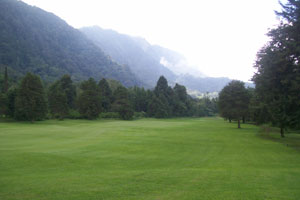 Ken, Steve, Bang and Paul went golfing in Badugal and I stayed back and worked – Steve shot an 82 and pissed every one off really good – ken drank beer. Paul scared the shit out of them on the drive back to Kuta – to drive as a local in Bali you have to be a bit crazy (little bit one o-clock they say). Had Benloden soup for dinner at Bangs. I headed off to Jogjakarta to check out the temples that night.
---
Day Thirteen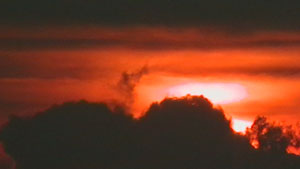 I went to Bodabadur Buddhist temple and it was a life changing experience – very very cool. It was built in 810 AD – incredible. Ken, Steve and Bang went out to Uluwatu and the monkey temple. Bang spent hours telling the boys to keep their sunglasses in their pockets, as the monkeys love to steal them. Guess who lost his Maui Jims? Bang was so pissed he chased the largest monkey around for about 10 minutes before the temple staff bribed him with a hug bad of peanuts – bang said it was his last trip to the monkey temple – ever. Hahaha we will see. They also went out to Tim's place (Nusa dua beach club) for lunch. 

---

Day Fourteen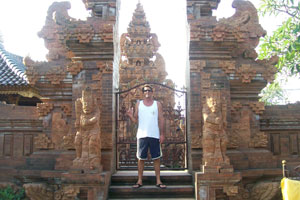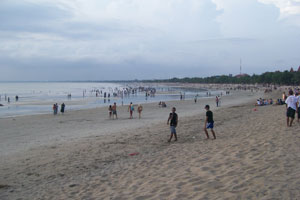 I check out the beach area in Jogjakarta – no surf but interesting area. I really like the city – very cultural and clean. The boys did some shopping with the Beach selling ladies and got assaulted by them for sure hahaha.
---
Day Fifteen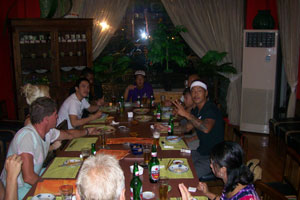 I traveled back to Bali and we all went to dinner at Tatoria – nice time – Gene gene the dancing machine came and joined us as well.
---
Day Sixteen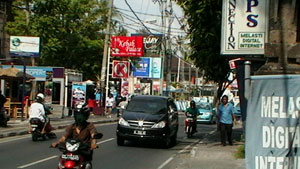 Flew to Medan to start our boat trip in the Bon Yak islands. Had a great meal at Traders – the best restaurant in Medan for sure.
---
Day Seventeen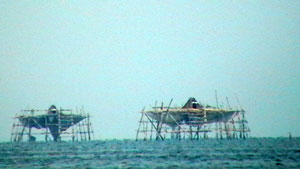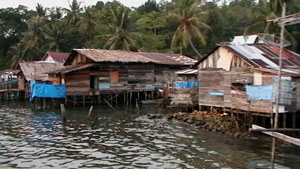 Traveled to Sabolga on the coast of Sumatra – what a pit. And got on the boat to head out to the islands. We met up with Mummy and Vern from Kauai and Greg along with the Captain Mick and his girl friend Koko. We also had a nice chat with Capt. Gus in the hotel in Sabolga – he is a good friend of Brooky's – but that is another story! Nice dinner and early night
---

Day Eighteen
Woke up to small surf but surfed around 3 hours on a small left – 2-3 foot but fun on my 6'3" had some beers with the captain. Huge swell on the way we hear. Met William and Woody from Kauai on a private boat they sailed from Thailand.

---
Day Nineteen
Same thing as day before = small waves – lazy day – confirmed huge swell on the way.


---
Day Twenty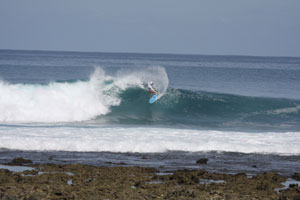 Surf still to small for the right-hander that we are all hopping to get – one of the longest rights in Indo, but we surfed the left all morning and it was building all day. We went around the corner to check the right about 2pm and it was just starting to go off. About 5' and building – we surfed all afternoon – killer wave – shallow and hollow – just the way I like it. We finally got to see it working – it got heavier and heavier all afternoon with some huge tubes and long race track sections. Had some laughs with the Boys, Vern is funny as shit. Mummies favorite word is WHAT!!! – He has been a contractor for to many years and is deaf for the most part. Greg is a good guy but quiet. Steve has a comment on everything and Kenny always has a big smile on his face. We surfed over 6 hours

---
Day Twenty One

Surfed the right-hander in the morning but it was pushing 6 to 7 feet on the sets and was turning into a foam ball. When the big ones came we would all get caught inside and it was no fun at all hahahaha. We all gave up after a few hours and we headed to the Bay – 2 hours away. We arrived and there were 4 private sail boats and one other charter boat. Surf was perfect 5' on the right and 6 to 8' on the left. Ken got slammed on the bottom and got a nice tattoo to take home with him on his side. Vern figured the surf was "ROUGHTY" Mummy hurt his knee and Steve was a bit unsure of his knee as he had surgery on it a few months earlier and it was going off hard. Steve and I surfed the middle left a perfect 3 to 4 feet and loads of fun by our selves all after noon – Having fun with your bros is what it is all about for me – ended up surfing over 7 hours.

---
Day Twenty Two
Surf came up a bit more and we surfed the right for about 5 hours – I started riding the 6'8" as the hours went by as my arms were feeling like rubber. Mick, Steve and I had some scotch after dinner and had a nice chat.

---
Day Twenty Three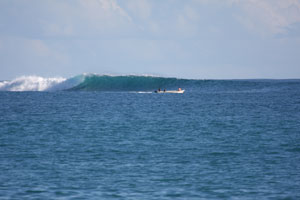 Feeling a bit groggy but I surfed the left all morning – going off solid 6' with a few larger sets. Just perfect waves – lets you in easy then kicks your ass on the inside tube section. Hooked up with Cory that I knew from Gland – he was a guide from jungle camp for years. He was on the indo jiwa boat with captain Johna and his family. About 1pm an indo boat pulled in with 7 indo guys on it claiming to be the police and army. They started shaking down the charter boats for a "new tax" they did a lot of yelling and threatening with their guns but the bottom line was that they would not provide a receipt for any new taxes paid so Capt. Gus on the bohemian and captain Mick on our boat told them to fuck off. The indo guys said that they were coming back in the morning shoot some one so all the boats took off to the other island that we figured was to far for them to go on there little dingy – the private boats and all the crew was very very afraid of the whole situation but with Mick and Gus so confident it made me feel strong as well (stupid does as stupid is).

---
Day Twenty Four
Surfed the left in the morning for about 3 hours – just a perfect 4 to 5 foot with some long tubes – then we went over and surfed the right – it was a perfect 4' and long and just the best 4' wave you could ever think of. Lots of fun.

---
Day Twenty Five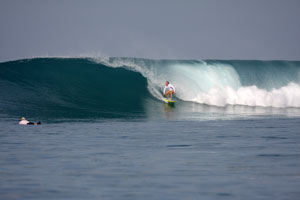 Surfed the right – a bit smaller but still really fun then went over and surfed the left – had a great time and had some of the boys over from the bohemian and played music and drank way to much – the Irish vs. the Swedes – no winners in that whisky contest!

---
Day Twenty Six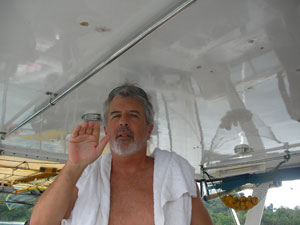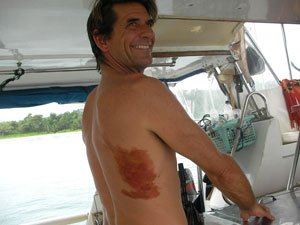 Still good surf but hung to the gills = slept most of the day and finished my 7th book of the trip. Reading slow this trip hahahaha

---
Day Twenty Seven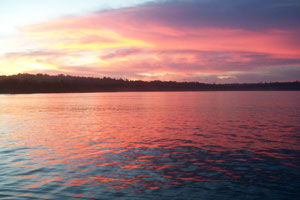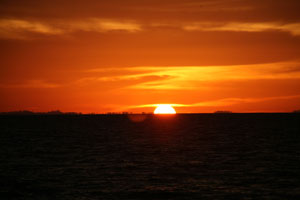 Stormed all day long – movie day – lots of wind and rain – had a few beers with Marcus the captain of the Jaiasnja
---
Day Twenty Eight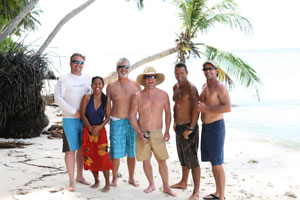 Last day to surf and dead flat – caught a few fish and had some sashimi – took a nice walk on the beach and then headed back to Sumatra
---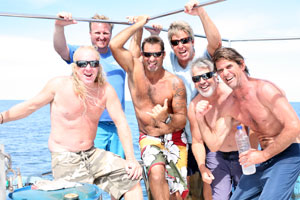 Said good by to the captain and Koko and the crew – as well as Mummy, Vern and Greg who where all heading to Nias to catch the next swell. Ken, Steve and I made our way to the airport in Sebolga and during our wait we had a very large Indonesian woman sit next to us. She had on a t-shirt that said, "I'm no Gynecologist but I would be glad to take a look" I love Indo! We are all looking forward to staying at the Marriot tonight and a nice dinner and a real shower!
---
Day Thirty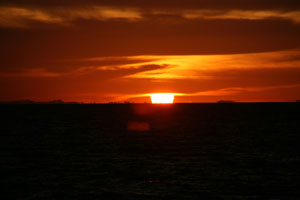 Said good by to Steve in Medan and Ken and I headed back to Bali – Ken flew home that night and I headed back to Gland for the rest of my trip – oh ya – I did a bunch of work in camp that time as well – hahahaaha
A perfect trip for all and I would like to thank Ken and Steve for putting up with me for a full month – you guys went beyond the call of duty!
---
INDO 2009 WITH JESSE – HIS FIRST TRIP TO ASIA!!
For many years I have hoped that one of my sons would want to join me in one of my surf adventures to Indonesia and this year my younger son Jesse said he was ready – at 15 (and going on 25) he had a few things to learn!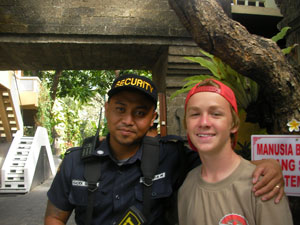 Day One
Got up early and surfed almost 5 hours – a bit smaller but still lots of fun.  Been working every morning as the internet and phones work great hear.  Got some nice surf video and then pizza at the Yoyo's Hotel.
---
Day Two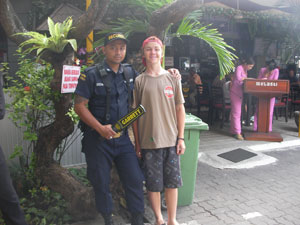 Flew to Japan then on to Bali – it is a long flight but we read books and talked the whole time – arrived at 10;30pm and checked in to the Melasti
---

Day Three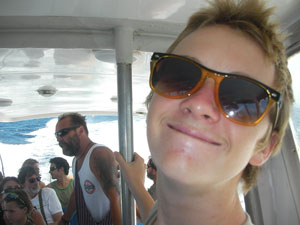 Got up – had some food and went down and surfed the beach break in kuta – middle right – had a great day just getting Jesse adjusted to the reality of Bali
---

Four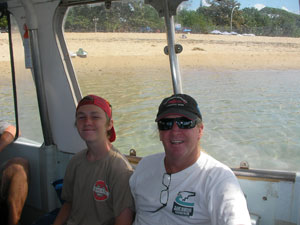 We rented motorbikes and Jess was really happy about it for sure. We surfed the beach then road all around kuta and then out to Jimbaron beach for a great meal at the Bamboo restaurant with Big dog, bang, narti and dipha from Joja and Ariani – my good friends wife that I was at their wedding a few years before. So many prawns and fish that we could not eat it all. We road home after dinner and had a really fun ride back to the hotel – the traffic was really bad but on the bikes we could weave in and out and made it back fast.
---
Day Five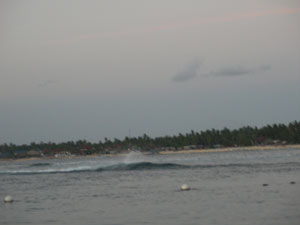 We surfed the beach break after a pancake breakfast – jesses favorite hahaha – it has been 2 to 3' foot every day and Jesse is loving it. Lots of fun – had lunch at double six beach and dinner at la Tatoria = great Italian food
---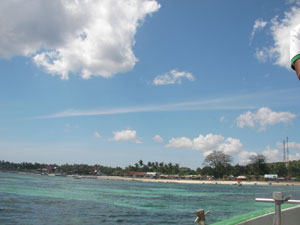 Day Six
Surfed the beach break and road the motor bikes all over kuta – had dinner at Aji Sai sushi
---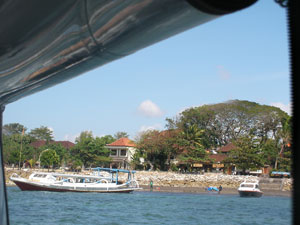 Day Seven
Surf the beach in the morning and Kuta reef in the afternoon – a bit big for Jess! Bang made us dinner – Binlodin soup and tomatoes – yummy – we decided to head to Nusa Lombogin in the morning. Did a full repack or all our gear and dropped off some laundry.
---
Day Eight
Took the fast boat to Nusa Lombogin and checked into the Bunga Bungalow – nice room and great food – we rented motorbikes – of course. We road out to the mangroves and had a soda and checked out the beach for flying kites – I had brought the two line practice kites with me. We surfed Lacerations in the after noon and had a great surf in 2 to 3 foot waves – Jesse said it was the best spot he had ever surfed hahaha. We had a pizza that night that was one of the best I have ever had – ever! The only place that I had pizza like that before was in Gili Air Island – this is a great little story. The owner of the Bunga bungalow (Louise) and I had some red wine I had brought with me that my Dad had given me – after dinner and he told me how the pizza came to be so good on Gili Air. About 10 or 15 years ago a guy from Italy that was very rich moved to Gili Air and wanted to eat a good pizza like at home – he tried and tried to teach the indo guys how to make the pizza but they kept going back to their old ways of doing it that was like bread with sauce and shitty cheese – finally the guy said forget it and opened his own small restaurant with a wood burning oven – he got all the business and people would come from other islands to eat the great pizza that the Italian guy was making. Well the Indo guys came back to him and asked him to close his restaurant as he was taking all their business. He said that he would close if they all promised to not change his pizza recipe and use the wood burning oven – they all agreed so he closed down and to this day they all have kept their word. The same guy met Louise in Bali and agreed to show him how to make the pizza and help him build the wood burning oven – that is the story of the great pizza of indo – hahaha

---
Day Nine
We road the motor bikes all over the island and found some cool spots. We went to the Bali Hi and met up with my friend Made Cho – we made plans to surf with him the next day. Had a drink at dream beach and the manager suggested we fly kites in the big field right next door – he was right – it was perfect. We surfed lacerations in the afternoon and had tuna steak for dinner.

---
Day Ten

Road bikes to ceningan and watched the surf –it looked fun but we had no boards with us. We then went and had lunch in mushroom bay at an indo restaurant – full lunch including drinks for two cost us $4. Jesse surfed lacerations and Made and I headed to cenigan – as it was much larger. Had a nice chat with Made and then headed back to bunga bungalow – Jesse was not back yet and it was getting dark – the boat driver that had taken him out said he went to look for him but could not find him. I said lets go try again – Jess had paddled from playgrounds to lacerations, as it was less crowded. We watched him catch his last wave and then he came in. The boat man turned out to be one of the crew of the Duca Duca that I had gone on four years earlier with Analu – we had a good laugh about it and he said that it was the craziest trip he had ever been on (read surf trip 2006 or 5 for more on that hahha) – we had a pole dancing surfer chick from Lahaina on the boat with us. We ended up having dinner with Heda a school teacher from Belgium and Jess was sure that I was trying to set him up with a tutor hahahahaa – we had pizza and wine and baileys – nice woman and good fun.
---
Day Eleven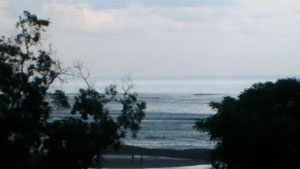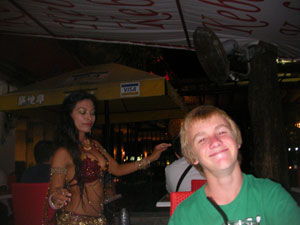 Back to Bali and Jess surfed and I did some work. I surfed the afternoon at Kuta reef – we had lunch at the Kabob place and talked about ordering a Hookah and having a smoke – just talked about it – We spent the late afternoon packing and getting ready to go to gland – had dinner at the queen of India near central plaza – Bang, Nardi, Jess, Big Dog, Burky and Annie – had some beers and then got ready for the trip at 5 am.
---
Day Twelve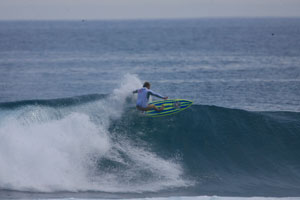 Got to Gland after a very smooth boat trip – Spoc and his family where just leaving as was Dave Mcgill and Simon – both Jess and I took a long nap and went for a hike before dinner. We saw monkeys, deer, pigs and more monkeys – we had to jog back to camp as it was getting dark and you do not want to be in the jungle after dark – no way.
---
Day Thirteen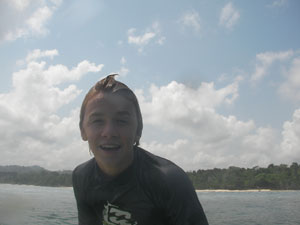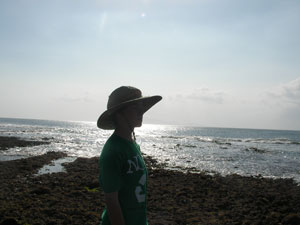 Jess headed down to tiger tracks on the truck and I surfed the reef about 5'. It was a bit low tide but good – had a lazy afternoon reading – Jess had 3 more books he had to finish on the trip so I was all over him
---
Day Fourteen
Jess and I surfed 20/20's in the morning and I surfed the reef in the afternoon – a good 5' with some nice tubes. I hooked up with Big Dog and we organized a fishing trip into the jungle for a few days

---
Day Fifteen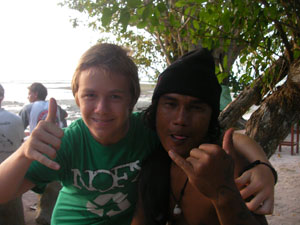 Jess walked to 20/20's and got scared out to the water – he thought it was a crocodile but it was most likely a dugong – sea cow. I surfed moneys and the pad really good on my 6'8" – the normal board at gland – had a few 6' sets and not many guys in camp.

---
Day Sixteen
Jess went to 20/20's and I surfed the Pad – surf came up to 6 to 8' and it was smoking for sure – I surfed my 6'11" for the first time this year. We met up with Kiki my buddy that lives in the jungle and he took us for lunch – we walked the reef and we found giant clams that he expertly pulled off the reef – we went up on the beach and cooked the clams and they were great – that night was the full moon ceremony at the camp and every one had a dance or two with the girls



---
Day Seventeen
We packed our things and headed into the jungle with three indo guides to Big dogs camp – it is about a three hour + hike that was really fun (we had the guides carry our things). When we got to camp Big dog had a nice lunch ready for us and we went out and did some ulua fishing. The fishing had not been to good lately he said but I hooked into one the fist day but could not get it to the beach. We had a nice dinner with cold beers

---
Day Eighteen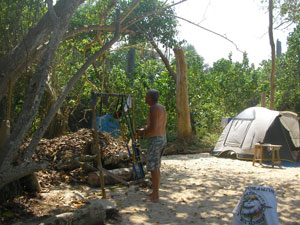 Slept great in the tent and fished all day – Jesse caught a nice size blue Papio so we had some sashimi for dinner and lots of talking and laughing

---
Day Nineteen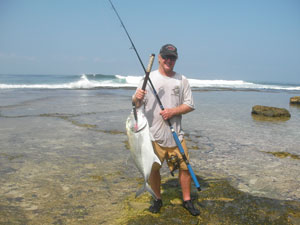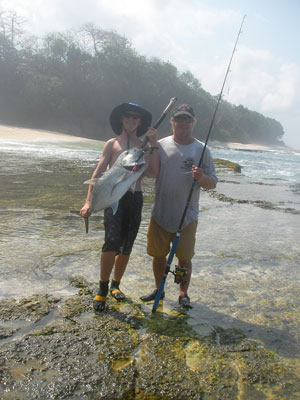 More of the same – hike and fish and hike and eat and fish – I ended up catching the fish of the trip that afternoon – a nice size ulua that feed every one with left over's for the trip out of camp.

---
Day Twenty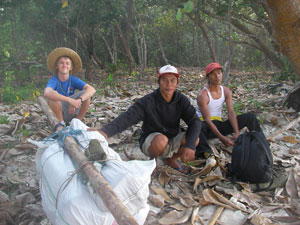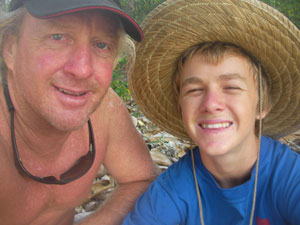 We packed up and all hiked out down the beach and back to gland – long hike but fun – got to camp and had a shower and packed up all the things we had left and got in the car for the long ride back to bali – 8 hours later we got to bali and checked into the melasti.

---
Day Twenty One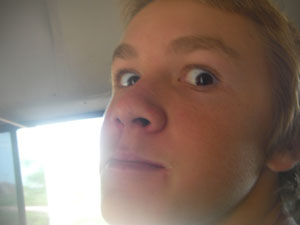 Jess surfed the beach in the morning and I surfed the reef – we spent the rest of the day shopping and packing up for the long trip home – it had been a trip of a life time and I loved it more than I can ever say – I will remember this trip forever.
---
Just A Side Note
Well that's it gang – another year and another experience – I hope you all enjoyed reading it and now I am back to work and loving it as well. What I a life when I can live in the best place in the world – have the best job – and travel to exciting places – life is good – and as my family tells me – NOW GET BACK TO WORK!!!!!!!!!!!!!!!!
Aloha,
Buz ~ Your Surfing Realtor