With the real-estate market going backwards and many of my fellow Realtors pulling in the belt straps and trying to cut costs – I thought what better way to jump start my business than an extended surf trip to South East Asia!
Day One
Took off from Maui to Honolulu – had an incredible lunch with my Dad and uncle John at Legend Dim Sum in the Chinese Cultural Plaza – if you love good dim sum it is a must in Honolulu. The flight to Bali was uneventful and was met at the airport by Bang and Rabbit – It was an early night for me but the boys from Oz and Bang were going off – Scardy, Leigh, Jean Jean, Davo, Burky, George and assorted women were raging – I was the good boy!

---
Day Two
Had some food and then got my cell phone organized. I was scheduled to fly out to Sumatra in the morning but found the flight delayed for four hours – welcome to Indonesia! I took the time to have Rabbit help me with my WiFi card for the lap top (kind of a hassle) had a shiatsu message and flew off to Jakarta – had to stay the night to catch a connecting flight in the morning.

---
Day Three
Got up at 4am to make it to the airport and got into Padang, Sumatra at about 9am. I hooked up with my stepbrother Mark in Padang and flew off to the Rokok airstrip in the Mentawai islands. This was my 8th or 9th trip to the Mentawai islands but my first flight. It was great except we really did not know if we were getting on it until they called us – not the most organized situation but – what the hell it worked out. The flight was 45 min then we took a 90-minute boat ride to the Wave Park Resort. At the resort we met the staff Christi, Alice, Jubilee, Jamie and Jared. Had a nice lunch and then pulled out the boards. Found that I had snapped the first board of the trip. The nose of my 6'3" was hammered. My other two boards (6'4" and 6'8") made it through no problems. The surf was about head high and fun so Mark and I went out to get wet at Hide a ways. The rest of the guests (6 of them) headed over to 4-bobs. We surf about 3 hours until dark. Had a great dinner and went down early – the bungalow is great. Nice and clean and new.

---
Day Four
Got up and the surf had gone down – had some food and headed out to check the surf on Kandui Island. Mark and I surfed Candies for an hour or two – a shitty left hander that was shifting around a lot then surfed 4-bobs for a few more hours – it was a fun right that you can nail the lip on over and over. Had some head high sets. Before I came down I had only ridden my 6'3" so with it being out of commission I was riding the new 6'4" and it was working great. I had brought a 6'11" to Bali but left it there for G-land. After lunch I fixed the 6'3" with the solar kit that I travel with then went out to check the surf at Bang Bangs. It is a fun left-hander that was small but fun with a nice line up. We surfed with a guy named Bob that has been sailing around this area for years. A new surf camp had just opened at Pit Stops. A bunch of guys came out and they said it was great. I found out that they where friends of the owner – all new camps have a few bugs. Back at camp we had a nice dinner, a few beers and a long chat with Christi. He said that the best surf he has had in the area are Riffles and Kanduis. Being that he has lived here for 10 years I would imagine that he has had it A++ many times.

---
Day Five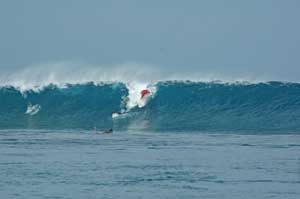 Surfed Tiki's, very good, for over 3 hours in the morning. It had 12 guys out when we got there but after an hour or so they all went in. Good surf about 3 to 4 foot and the best so far on the trip. No tubes but some huge smash the lip waves. Had some lunch and read for an hour then Christi said that Riffles could be on so we headed over. There were about 35 guys out including Kelly Slater, Andy Irons, Martin Potter and Rasta – not many sets and the large ones were barely 4 foot – I got one good one and a few close outs. Christi padded up to pistils and we followed – no one but us out and much larger very heavy wave. We surfed until dark, the tide was dropping and near the end Andrew "kiwi" got caught inside and dry docked on the reef – he must have got 20 to 30 cuts. I got caught as well and got a few cuts on my hands and feet – had some beers and a nice dinner with sashimi.
---
Day Six
Got up early and Mark and I surfed Hide a ways – it was going off 5 foot on the sets and heavy. I got my first two real tube rides of the trip – big and deep – I had fixed the nose on my 6'3" so rode that so that I didn't have to swim to the boat for my 6'4". It worked great. Came in and has some fruit and went right back out but the tide had dropped and it killed the surf. Decide to lay around and read and wait for the tide. We went and surfed a secret spot "Gurinchi" in the afternoon. It was solid 5' and had a huge pit. Mark got caught inside on his first wave and it took him about 20 min to make it back out. Heavy take off on the lefts but the rights where mellow. Christi came out and told us he had only surfed it once before – we eased into it and ended up getting some great waves. Got back after dark – dinner and early night.

---
Day Seven
Mark and I hit it early to hide a ways – the tide was good but not much surf – had about 6 of us out by 7 am – every one went in early as the sets were only about 3'. I stayed out and got a bunch more waves. After some food we went to Tiki's – it was a bit on shore but bombing solid 6' (12 to 18' faces) to 8'. It had some bump but it was nice to get into some large surf. I only had my 6'4" but it was working well – I took one good fall and hit the rail of my board on my ribs and have a bruise the size of a football now. After lunch we went to Riffles. It was side on shore but we decided to surf it and hope that it would clean up. I rode my new 6'8" as it was solid 6' + on my first wave a guy backed out of one of the largest sets of the afternoon – I whipped it around and went straight over the falls – my board must have buckled because the next wave it snapped in half. I paddled to the boat and then took out the 6'4" – I got some nice waves – I was humbled a bit as it was large and fast and on shore – even Slater only stayed out for a few waves, as it was a bit dangerous. The potential was huge if it would have been off shore – I am going to keep coming back until I catch Riffles on fire. Early night lots of aches and pains.

Day Eight
Got up to on shore winds and a huge rainstorm. A few guys went out to hide a ways but I woke up with an ear ache, bruised ribs and a sore leg – must be getting old. Had some food and then headed to Riffles – the wind was perfect off shore. The swell had dropped to about 3 to 5' but the sets still made you think hard. Got the best tube of the trip so far – full set wave, nice and deep and came out clean. I can see the huge potential of this wave being truly world class. We just got back to the camp and I waiting for mark to finish in shower (not sure what takes him so long LOL). After lunch we went back to Riffles – it was still good, maybe a bit more side shore but still got some great waves. By the end of the surf my rib was really sore – early night.

---
Day Nine
Surf is small but good winds – my earl is really infected and I am going to stay out of the surf unless it is really good today. They say a new swell in a few days should be perfect for hide a ways. Had Jubilee give me a very nice massage before lunch – my ribs are really black and blue now. After lunch I was feeling a bit better so I went with the boat to check Tikis and is was junk – we went to bang bangs but it was small and packed. I stayed on the boat – let my ear heal – early night no beer.

---
Day Ten
Surf looked small but the tide was good out front. My ribs and leg was feeling better now – it is my ear that is my real issue. I got some eardrops and it turned out that 4 of the 9 guys in camp had earaches. I finished my 4th book of the trip – two Clive cussler novels, the Alchemist and the emperor's child by Clair Messud – good book. I have been studying my Indonesian some but still struggling to put proper sentences together. Played pool with Mark in the afternoon and just laid around after that. Bad winds for tikis and to low of tide for hide a ways. It does look like a bit of swell on the reefs – it could be good tomorrow. A 93' catamaran came in and moored out front – the crew came in and had dinner with us – French – nicest cat I have ever seen.

---
Day Eleven
Got up first light and could hear the surf but could not see it. Headed out solo at 6am – solid solid surf 6'+ on the sets had my 6'3" and with no one out I got a bunch of killer waves. Mark came out and *ucked his 6'3" on his 3rd wave. Jarred *ucked one of his boards as well. It got really crowded with one boat full of pros and two boats from kandui camp. When Mark came back with his 6'8" he brought my 6'4" for me. It made a huge difference and I stayed out for 5 hours and just waited for the sets. I got so many killer waves it was great. The tide got to low and every one came in. Took a nap then surfed Bang bangs with the Brazil nuts – it was every man for him self – early night surfed over 7 hours.



---

Day Twelve
First one out at hide a ways – still solid 5' got some great waves – it got real crowded – 20+ out – surfed for 3 hours – went in had some food then surfed for 3 more hours. We went and
surfed Tiki's at sunset – not so good but got over 8hrs in the water.

---
Day Thirteen
First one out at hide a ways and surfed for 5 hrs straight. The crowd was light as was the wind. – Waves 4 to 5' and inconsistent at first then it came on with the tide. I got a bunch of nice tubes and one supper long one – it could have been the best of the trip – only the Spaniards saw it. Last day at Wave Park – taking the ferry tonight to padong. I am packing up my shit now – man do I travel with a lot of crap!
Mark, Brad and I took the speedboat to the ferry in Sibirute – it was a very wet ride – it was raining and storming too. The ferry was packed and no first class beds – it is a 12-hour ride and with only standard seats it is going to be a long night. Had some beers and bought a sarong to sleep on the floor with. It really made me miss the airplane that we had taken over – it was broken now.

---
Day Fourteen
Got into Padang and found that because we where one day late we had missed all of our connecting flights. Everything was booked up for an indo holiday. I tried standby on a few flights to Jakarta but no luck. I ended up taking a flight to Singapore with Mark. We went our separate ways once we got in to Singapore. I found a flight to Bali but was on standby – when they called my name they found out that I had used my last visa page in my passport to get into Singapore and would have to stay the night and go to the American embassy in the morning and have more pages added to my passport. I found a hotel and took a much-needed shower and went out and had some beers and food with a gal from New Zealand that was traveling to England. After Indo, Singapore is very expensive but beautiful city.

---
Day Fifteen
Got up early and headed to the embassy – it all went very smooth with no problems at all. I was sitting in the waiting room and noticed a picture of a beach on the wall. I looked close and it was Maki horse beach on West Molokai – what's the odds – it was unlabeled too. I got a flight to Jakarta and then on to Bali with no problems. Had dinner with Rabbit at Fukuharas.


---
Day Sixteen
I hooked up with Bang bang, Rabbit, Ed and Luna – we surfed the reefs for a few days then headed into G-land for 10 days – it was a great trip and we got lots of surf and had a really good time – lots of drama and beer drinking – saw a bunch of old friends and made a bunch of new ones. I brought my 6'11" (blue) quad and my 6'10" and 7'6" (yellow) thrusters that I had left in Bali for the past few years. I ended up snapping the 6"10" and the 6'11" was a bit on the thick side for me but I rode it a bunch. We went back to Bali for a few days then Greg and Davo came to town. We all surfed the reefs for a few days then decided to head back into G-land for some more surf. I thought about going some place else but with the swell and conditions – it was the most for sure place to go. And was it ever good – I got some great waves and had some really good times with the boys. By the time we left G-land every one was surfed out and happy. I had a few more days in Bali and got the reef one last time before I left



---
Home
Wow what a great trip!  We really did it all and it really was a "TRIP OF A LIFE TIME" Until next year of course!!!!!!!!Just A Side Note
This year was the first time I had an extended trip in Indonesia. With cell phones and the laptop I was able to keep the business going fine (of course with lots of help from Paul and Curtis) and still feel like I was on vacation. I met some incredible people this year (you know who you are) and will never forget the adventures I had with my stepbrother Mark. I am looking forward to summer 2009 and having more time for exploring other areas of Indonesia as well.
Once I got home I was lucky to kick right in to a great south swell and then into winter – I have been surfing quite a bit over the past few months but really nothing like the quantity that I get in the Indian ocean (I think work has a bit to do with it). The market has improved some over the past few months and it looks like Moffett Properties is going to survive this economic down turn just fine.
I hope you have enjoyed reading about my summer and I would love to hear about yours.  I know many of you reading this have known me for years so don't be shy tell me what is going on in your life.
Aloha,
Buz ~ Your Surfing Realtor