The Surfing Realtor's 2007 Indo Surf Adventure
Come travel with Buz Moffett to the magical islands of Indonesia. Buz has been traveling to "Indo" for over 20 years and has surfed many great spots. Hope you enjoy the ride… In this journey we follow Buz and "Da Boyz" on another, 35 day epic adventure….. Mahalo for joining us.
Aloha.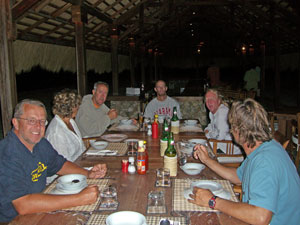 DAY ONE / JUNE 14th Arrived in Bali expecting to be solo and found that the boys from Oz had hung out in an attempt to get me to go to G-land with them instead of following my plan and make it to Rote island. Banger, Willo, Greg, Davo and Jene Jene the dancing machine (one of the very best photographers in indo) where all at Bangers place drinking beer and talking shit. It was about 11pm and I was beat tired. Basically I told them what they wanted to hear and they went out to the bar and I went to bed.
---
DAY TWO / JUNE 15th
Bang called at 5am and being that I had not slept well it was an easy choice not to head out with them. I slept in then took a walk and got my cell phone working (yes I do have a cell when I am in Indo now but you need to go through Paul to get the #). I had to get a new sim card and some minutes charged up. Did you know that if you do not use your phone for over 3 months the sim card expires? I did. Had lunch at Pad Tie and watched the surf at Kuta Reef, Middle Lefts and Airports, looked about 3 foot. One of my good friends from Maui Johnny O had met a Bali girl a few years ago and finally convinced her (Ariani) to marry him (quite a feat). He had told me about it a month or so ago before he left Maui. He was setting it up for August last I heard. I gave him a call and found that they had changed the date and the wedding was set for June 18th (three days from now). It turns out that in the Hindu religion there are only a few very special days to get married and June 18th is one of them (who would have know?). I took them to dinner at Anji Sai and discussed the plan for the wedding and how and when I would be there. It really just turned out perfect for me timing wise. and then hit the sack!

---
Day Three
Got up early and headed out to the Bukit – I had set up a Lasman at Bingin's (near Padang Padang and Uluwatu) for a few nights. Made it out no problem and found the surf about 3 feet (6 foot faces) and took out my new 6' quad that I had not surfed yet. I got a few very nice hollow waves and the board worked killer. It was loose but I could just keep it under control (when I got back to Maui MA told me that I had been using the wrong fins the whole trip) the board held in well in the tube which was most important and I was back in the water and happy. I had a wonderful dinner with my host Rob who had been living here for about 15 years. He is from Carmel area and new a few of the guys that I know from there. I made a call home and talked to the kids and they were doing well and said that Suzy was out singing Karaoke at the Bar – what a change – only in Michigan (Suzy and the boys were in MI for the summer at our lake house). I also got the good news that the real estate deals were all doing well and there were no problems.

---
Day four
Surfed Impossibles in the morning and got a few god ones. The swell seemed to have dropped a bit. Had lunch and a massage and surfed bingins in the pm. I finished my third book (all brainless wonders) and Rob gave me a small book of short stories that he had written "spaghetti Jack and assorted stories of the Big Sur coast" – it was fantastic, funny as shit – I finished it after dinner. Being that Johnny O was getting married that next day and that his wife's sister had called about four times to make sure I was coming, I let Rob know that I would be leaving in the AM. Had a very nice Dinner and talked to Rob at length about him helping me get some wood for the three homes that I am building on Maui. Rob also mentioned to me that he was thinking about taking a sabbatical for six months or so and would be interested in finding the right person to take over the villa operations for a period of time. It sounds like a lot of fun – I have a friend John O' Brian that I am going to talk to about it – he just retired from playing soccer and needs a job.

---
Day Five
Got up early and packed up by boards. Surf had dropped some more but still looked fun. I had been told that a silk dress and sarong was the traditional wedding present at a Balinese wedding and that we would need to go to Denpasar to get it from the garment district. What a mission it was on a Monday morning the traffic was insane and I almost gave up when we finally got there. Got the dress and headed back to Kuta – I was running late and rushed to the Kumala hotel just in time to find out that there are two of them (kumala hotels) Of course I was at the wrong one so by the time I made it to the right one I had missed my ride. The guy came back and got me an hour later. The wedding was in Denpasar and the traffic again was bad. I got to Johnny and Arianis wedding (it was at Ariani's brothers house) and every one was all dressed up and the food and decorations where unreal. The ceremony took about 3.5 hours with lots of chanting, bells, water drops and the finally of Johnny removing he head of a cooked chicken and Ariani removing the head of a cooked duck – they then put the head of the chicken on the duck and the head of the duck on the chicken and they where married. Charlie Q's wife and her friend and I where the only bulay's (white people) at the wedding but it was so much fun and every one was very nice to me all night. We left a bit early and when I got back to Kuta the boys had gotten back from G-land. 11 of us went to dinner at La Tataria – it was a great meal. They got some great waves but nothing over the top.

---

Day Six
Got up early and said good by to the crew.  Had a bit of pressure on me as some of the boys had been to Roti in the past and said that the waves where shit.  I had commited and was going down no matter what.  I was traveling with a guy named Damian from LA.  He had been to Roti last year and was good friends with one of the owners of the camp.  He is an English teacher at a private school and said that he got some good waves last year.  We got to Kupang, Timor and made it to the hotel to find that they had put us in the same room.  Nice guy but did not know him that well.  We tried to get a second room but the hotel was full with some kind of government meetings.  I was dead tired so I took a nap and Damon went out and found a different hotel to stay at.  That night the indo government convention was going off.  I got a cab and went out to eat at a Chinese's place about 20 min away.  I could not read the menu so the waitress just ordered for me.  I got rice, French fries, fried chicken and vegetables – I guess that's what they figured a Buley (white guy) would like to eat.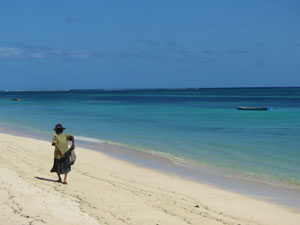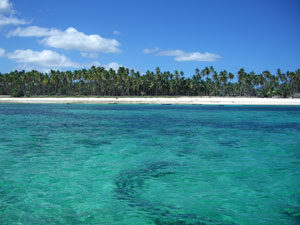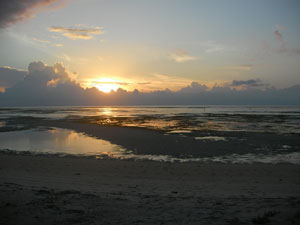 ---
Day Seven
Got picked up by Fary at the hotel (he works for the Nembrella resort and arranges the transfers).  We took a very nice small ferry to Roti Island.  It took about two hours and I finished my sixth book on the way.  I am starting to get on to some deeper subjects and authors now.  We had a two-hour car ride and got to Numbrela village at 4 pm. Roti is a very dry island and seems to be very rural and poor.  Lots of goats, water buffalos, pigs and some cows.  Kupang and Roti are Christian religion areas.  Our first lunch was great and the room is perfect, clean and big with a nice king bed and killer mosquito net.  I flew the small kite as it was supper windy and the surf looked small.  I fixed the ding that I had gotten at Bingins on my small board then hung out with Damian and the others at the resort.  There was Kevin Booth (he lives in CA but had grown up on Maui and went to school in Lahaina), David and Jane from Oz via Hong Kong (very nice couple), Bela and Tobin from lake Tahoe CA along with the camp director Greg.  Also had good conversation with Danny the Bartender.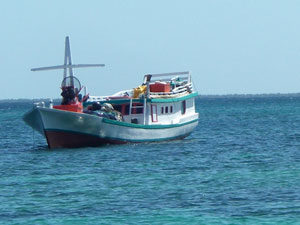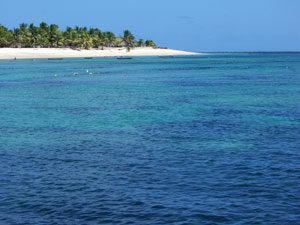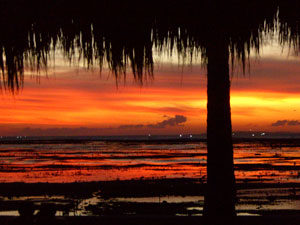 ---
Day Eight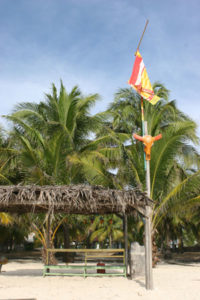 Slept great – the bed was more than I could hope for.  Surfed early on the up coming tide and road my 6' quad.  The surf got about 4' (8' faces) for a period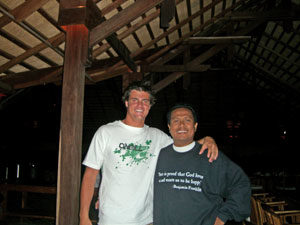 during the session but then slowed down.  The crowd was about 15 to 18 guys but it was simple and the crowd was spread out.  It did take a few waves for me to get the board working correctly on these waves.  It is a soft fast wave when it is small so you have to get on it and pump right off the bat.  It is a sloping wall with not much of a tube but supper fun and long.  I surfed for about 4 hours as every one out said that this was the best it had been in four days and I thought that I should take advantage of it.  Had a nice lunch and a nap while it rained real hard (very unusual for this time of year).  The wind turned on shore (also not to common) and Greg suggested that we take the boat over to Do'o island and check the right hander that would be off shore.  Damean, Kevin, Bela and Tobin and I headed over with Moose the indo boatman.  It took about 45 min and was not to rough.  The surf looked small and Moose was ready to go home when I saw a ride able wave so Tobin and I paddled out.  It turned out to be a lot of fun and we got some nice long shoulder to head high waves that had some punch.  This was the first surf on the new 6' quad going right – we surfed until dark.  Had dinner with John and Hildi from NZ, very nice couple that has a beautiful home on the beach and stay down here for the season.  They have been coming for 10 years.  It was a bit humid and hot and hard to sleep.
---
Day Nine
Surf went down but we surfed for over 2 hours anyway.Met a guy in the water from South OZ.  Thomas and his wife, they new of my friend Jeff Schmucker from Streaky bay.  They live in Ellinsworth about 180 km away.  He said that if I ever make it down to see Jeff and drive through Ellinsworth to just stop by the bakery and ask for him (very small town).  Finished my 7th or 8th book – I have lost count.  It was an interesting one about the history of Longitude, very interesting that the clock turned out to be the key.  Spent the afternoon practicing my Indonesian with Danny the bar tender.  Once we got talking I found that he had been a teacher for 10 years in Numbrella village.  Damian and Dave came over to see what we were talking about and it turned out that they are both English teachers as well (my luck to be stuck in the middle of no where with a bunch of teachers – as I am sure you can see I could still use some work on my spelling).  The conversation turned to the grammatical differences in the two languages and it kind of lost me after a while. I went for a long walk in town at sunset and got to practice my lingo.  I walked so far that it got dark and I could not find the road back to the hotel and my language skill did not work as well as a big smile.  I am now known as the lost bule (truest) from Numbrella hotel.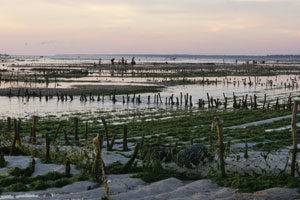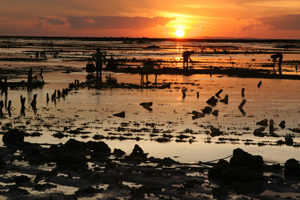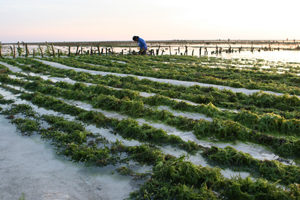 ---
Day 10
Day Ten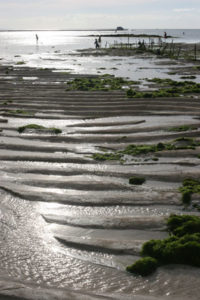 Surf seems to have gone down more.  Looks to be about waist high.  Talked to the family back in MI and they said it was cold.  Hard to believe as I sit here at the bar with only surf trunks on at 7 am. Thought I would try and practice my indo and do some fishing.  Had one big strike and it broke line.  No other action.  I brought out the kite and every one had a go at it.  It was loads of fun.  We had a big lobster dinner and being that it was Saturday we had about 10 guys from Oz staying in the village come by for drinks after dinner.  It was a fun time.
---
Day Eleven
Flat surf – read all day – studied my indo – the boys from Tahoe left and a guy Holten from San Francisco came in.  Forecast for swell looks good.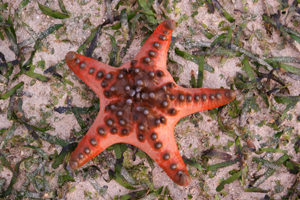 ---

Day Twelve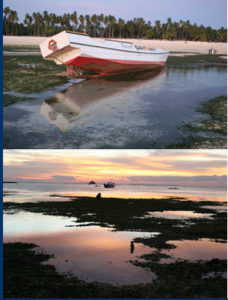 Surf came up and I surfed 3 hours in the am and 4 hours in the PM.  Fun size 6 foot faces all day long.  Surfed the 6' quad – it would sure be nice to have to ride the 6'4" quad that has just been sitting in my room.  The Oz boys came by for a drink and the main culprit "Snowy" got good and drunk.  The rumor is that he went back to his lasman and was promptly asked to leave.  Know one saw him for two days after this night.  It turned out just to be a rumor and I got to surf with snowy later in the trip and he surfed like the hell man he is.
---
Day Thirteen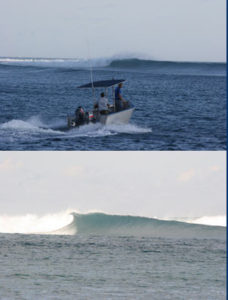 Surf came up more and I had a 5-hour go out in the AM and 3 hours in the PM.  It was a perfect 4' (8' faces) and the 6' quad was killing it.  I am feeling good and strong and can paddle like hell and catch every wave I want.  The crowd is light and very friendly and every one takes turns for the most part.  This little board is absolutely the perfect board for these waves.  I have been surfing mostly with John – the guy from NZ that has the house here.  He surfs long sessions and is a great surfer – and nice guy.  The boys caught a Spanish macral and we had a nice fish dinner with sashimi and all.  Patrick from New Port Beach came into camp today via Oz where he had been attending school for the past 6 months.  Nice kid and good surfer.
---

Day Fourteen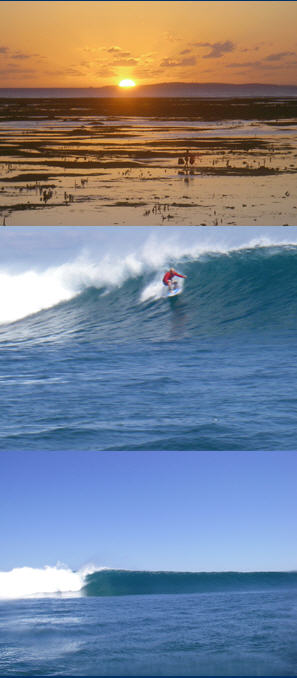 Finally some real surf!  Solid double overhead with bigger sets.  The off shore winds have picked up and it is blowing 20mph +.   I road the 6' quad in the am for 4.5 hours – I must have caught 50+ waves.  Only 5 or 6 guys in the water – seems that most of the "surfers" staying in Nabrella village like the smaller surf.  My board was handling the surf but was a difficult paddle with the size and super long waves.  I am going back out now after a big lunch and a nap.  Taking out the 6'4" quad – watch out baby here I come.  I surfed four more hours and caught so many sets that they all seem to run together.  The Mahalo II (surf boat) came in with 6 guys.  I met a few of the guys in the water.  One guy "Rick" is from Lahaina and I knew him back in the early eighties.  He still lives in Lahaina but we just never see each other.  He said he knew that I was still around just based on the amount of for sale signs he sees with my name on them (Moffett Properties).  Rick brought his brother and nephew Cameron from southern cal.  Came in at dark had a good shower.  Dick Lewis with his son Max, Max's friend and Dicks younger son have a boat that they bring from Kupang when they know the surf is going to be up.  They live in Bali and Dick's wife is Indonesian.  Very Very nice people.  They came and had dinner with us tonight had a fun time.  Played some music with Yantos (he is the indo camp manager) and was in bed by 8:30.
---
Day Fifteen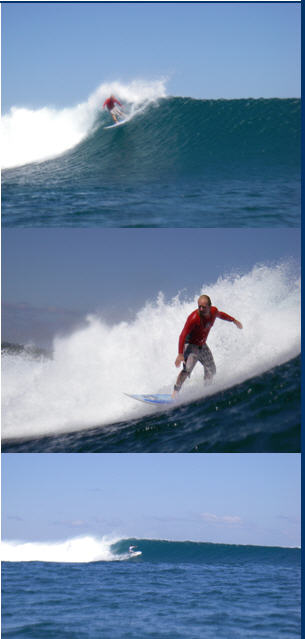 Woke up at 2am with the squirts – it has been going around and I never really got back to sleep.  Got out of bed at 5:30 and Sammy the boatman was hanging out so I grabbed my 6'4" quad and went out.  I should have looked at the surf as it had gone way down and I could have ridden the 6' board no problem.  I did get the best tube ride of the trip so far on one of the larger waves that came through.  Got to meet Gary Burns, captain of the Mahalo II.  One of my great friends Ole Olson from Maui and one of the premier long board shapers in the world has been friends with Gary for many many years and Gary and I had lots to talk about.  I had brought a gift from Ole for Gary.  Came in after 2.5 hours and I was hurting a bit from all the surf yesterday.  Had some breakfast and then took the boat down to look at suckies (kick ass right hander) the wind had died some but was still too windy for suckies.  Fished on the way back – no luck.  Renjay (the massage lady) was waiting for me when I got back.  I had forgotten that I had set up a message – she has very pointy little fingers and she hurt me.  I took a 2-hour nap after.
---

Day Sixteen


Got up at first light and surfed the 6' board.  I could have used the 6'4" – surf had come back up.  I did one long ass session 5 hours and came in dead tired.  Had lunch and took a nap.  I played volleyball with the staff in the afternoon.  What fun – the rules are loose but every one laughs so hard it was a great time.  The ferry from Roti to Kupang broke down so Dave and Jane could not leave.  They decided to drive all night and take a fishing boat.  Had dinner and bought them some drinks and sent them on their way.  Very lovely people.  Had a drink with Bruce from Oz that has the boat "whatchrecken" he rides a quad as well, then called it a night.bed.
---

Day Seventeen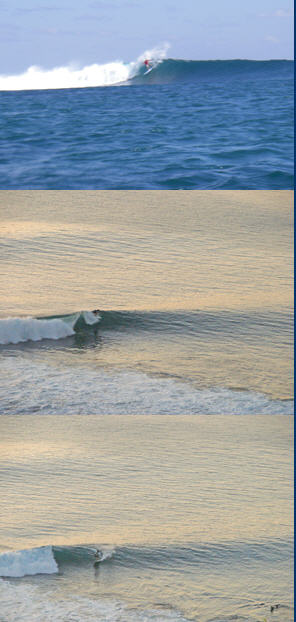 Got up at first light and surfed the left on my 6' board for two hours.  Greg and Patrick came out on the boat to get me and we went to the right at suckies.  It was on fire and I got some of the best waves of the trip.  Not as big as the left but the tubes where a nice change from the big walls.  I should have had my 6'4".  Got my longest tube of the trip and surfed for another 2 hours.  Had some food and a rest then went back out – took the 6'4" and some muscle relaxers (old man candy).  The waves had come up even more and I saw the largest wave of the trip – 3-x overhead for sure.  I waited out side for 45 min for another one of the bombs but it never came.  I did get lots of large waves but not as big as the one I saw.  I surfed for 4+ hours then came in and drank beer and played volleyball with the staff.  What a killer day – 8 hours in the water and so many waves I can't even count them.  One of the great parts about this spot is the wave is heavy but not so heavy that it kicks your ass.  You can surf it all day and feel tired and sore but not destroyed.  Looking forward to suckies in the morning – we are getting up early and taking the camera.  Had a going away party for Greg – he is going to Bali for a week.  Played music with the staff – good fun – boy can the girls ever sing down there.  Did not drink much as I thought the surf was going to be going off in the am.
---

Day Eighteen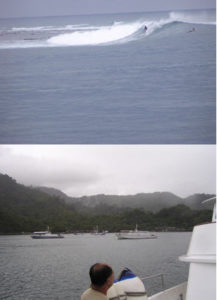 Got up at 5am – no wind and could hear the surf – headed to suckies with all the cameras Pat and Bolten.  Surf was small so I took movies of the boys all morning.  Had some food and a nap, read and studied indo – I have made more progress this year than all my past years combined on the lingo.  If I can just not forget it when I leave I will be stoked.  Surf went flat at high tide so I took the day off.  Played volleyball – some of the boys from the village came down as they heard that there where some bolies that could play well.  Not me I am a short old guy and was doing it for fun.  Patrick, Holten and Damean had played in high school and collage and where real players.  Fun to watch
We worked on transferring the video and pictures with yantos and Pat – slept great.

---
Day Nineteen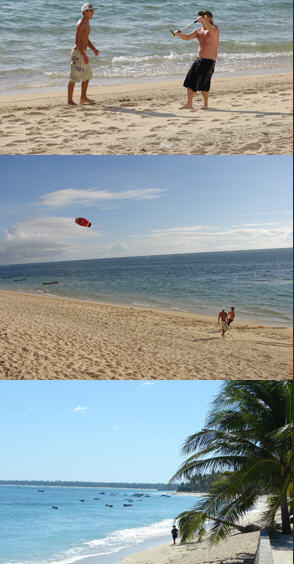 Got up at 5am and it had pored rain all night and the roads were all flooded – I walked down to the Circle K for a coffee and you would not believe the action on the streets of Kuta at 5am.  Drunks and hookers all looking for the last bit of action of the night!!! Glad that I was not one or with one of them!!!  The boys did not pick us up until 6:30 – they said it was because of the rain.  And then we waited on the beach until 8am.  Once the boat finally left we made good time to g-land and were in camp having breakfast by 10am.  We went surfing for 3 hours and it was Jesses first time surfing the reef – last year when we went he only surfed 20/20's and Tigers – so it was a really big deal for him.  He was so stoked – he caught a bunch of waves.  We hooked up with Jungle Jim one of my oldest friends from Aussie and played some chess then had an early night.
---
Day Twenty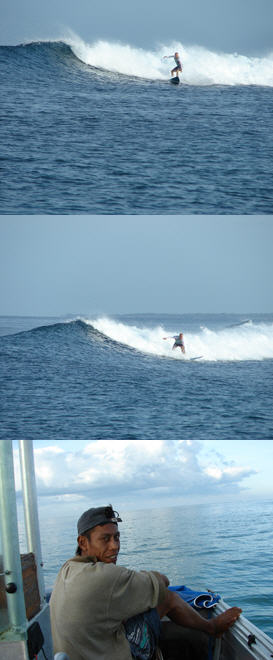 Colton woke me up and I went for a 2-hour surf – it had gone down some, which was a good thing, as I was not feeling the best.  First and last hang over of the trip.  I must have matured over the past few years as feeling like this is becoming very unusual – this is a good thing.  The ferry was over booked so they put me up with the captain in the wheelhouse – heading to Kupang now.  Fari (the transfer guy)
---
I hope that you have enjoyed reading of my travels and I hope that I can be part of yours.  Give me a call when you are thinking about Maui – no matter where my travels take me coming home is always a pleasure – We are so lucking to live in the best place on earth I count my lucky stars every day.
Aloha,
Buz ~ Your Surfing Realtor