The Surfing Realtor's 2006 Indo Surf Adventure
Come travel with Buz Moffett to the magical islands of Indonesia. Buz has been traveling to "Indo" for over 20 years and has surfed many great spots. Hope you enjoy the ride… … Mahalo for joining us.
Day One / June2nd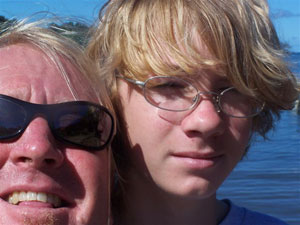 We left Maui at 9pm, Ryan and I headed out on our first great adventure! I think we were both a bit apprehensive on our being one on one for over a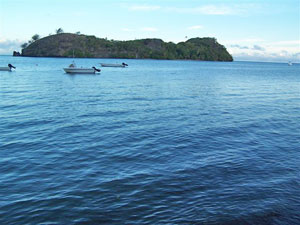 week but we did a good job of hiding it. We arrived in Honolulu where we found that our ticket on Air Pacific was a paper ticket not an e ticket (you get so used to e tickets I forgot that you may actually need the paper kind). We got a hold of Suzy and she faxed over a copy – first disaster avoided.
---
Day Two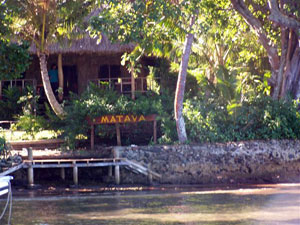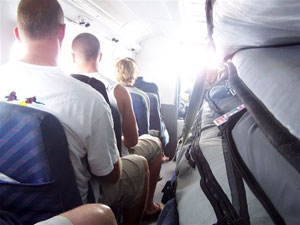 We arrived in Nadi in the am and met Ari – an Indo-Fijian guy that worked at Sun Air – he set us up with a taxi to cruise us around the city for a few hours while we waited for our flight to Kandavu. We had breakfast and as we talked we realized that we had lost a day (flew over the date line, you would think that I would realize this – but no) we left on a Friday and arrived on a Sunday our ticket to Kandavu was for Saturday. Ari helped us change this and got us on the next flight. We then realized that we where going to be a day late arriving at Matava dive camp as well. We flew into the small airport in the center of the island and Sammy picked us up – he said that they just thought we might be in today. We had a short truck ride (not many roads on the island) and got in a long boat with an outboard for the 45 min ride to Matava. Got into our thatched hut and relaxed – had a great ono dinner and went down early.

Day Three
Got up early and had breakfast and good coffee (I brought it with us) in the new French press (left the old one on the Santa Louisa in indo last year). We got our dive gear together and went for our first scuba dive of the trip. The dive master Joe was great – he gave us the run down and tested us on our knowledge and then told Ryan that he would be fine and that I was the one he was worried about! Our first dive was at SoSo pass – this is a huge reef pass that I had surfed back in 99. I was a little bit pressured when we went down and when we got to 85 feet I felt a bit of anxiety. Ryan was just fine – we stayed down about 40 minutes. Ryan is so skinny that the cold really affects him (I seem to have a built in wet suit!) so he usually only did the first dive. I felt the same anxiety on the second dive at about 70' but it passed quickly – we saw a few reef sharks and lots of fish – nice wall. Went fishing all afternoon with Adrian (the camp owner/manager) caught a mackerel, crocodile fish and lost something big. Ryan and I did some reading and then had another great fish dinner w/ sashimi.

---
Day Four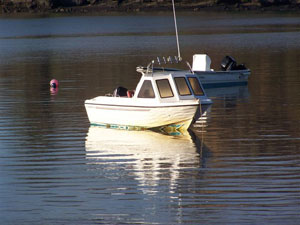 Got up early and went for a dive off the reef shelf – there was only one other person at the camp that we where diving with, Kirsten from Germany – she was an elections observer and Fiji had just had their elections. We dove straight out from Matava on a reef shelf that dropped off hundreds of feet. Ryan is quite a diver he is careful, cautious but adventurous. He went down 94 feet (our deepest dive ever) and followed all the rules and was as professional as you could ever imagine – I am so very very proud of him. It scared the shit out of me seeing my little boy (not so little) so deep in the sea but I could tell he really enjoyed it. We did not see much on this dive – I went down 88 feet and did not get the anxiety – we stayed down 50 min. I must be getting this diving thing down. We dove Eagle Pass next – went down 78 feet and stayed down 53 min. Had a great lunch of fish and chips and Simon took me over to Ian's yacht. Ian and I had had met back in 99 and did some surfing at a few of the local passes. He is a Kiwi guy and has been living and chartering in the area for over 10 years – nice guy. We surfed Vesi pass a quick left hander that would go off with a little size – it was a little over head and we surfed till dark – I am beat tired and need a day off!

---
Day Five
Ian and Matt from the Yacht came by and we went for surf at So-So pass. It is a large left on the largest pass on the island. We surfed for 3 hours and got some killer 8 to 12 foot faced waves – had a ball, Matt stayed on the boat – said it was a bit much for him. Ryan stayed back at camp to finish the DaVinci code – after lunch Ryan and I went and explored the "American island" – it is a little island off the coast about 300 yards. The story is that the inventor of the water gun (squirt gun) owns the island and built a house many many years ago. When he died a large chunk of the island broke off – the family has not been back to the island in over 10 years now and the house is falling down. It sits up high and must have been something when it was kept up. It was Kristin's last night and we got two new guests Michelle the Frenchman and Uniko his wife from Korea.

---
Day Six
Said good by to Kristin and headed out to manta reef for a dive – max depth 78 feet for 37 min. We saw a sailfish – it was unbelievable – it swam slowly by us with no fear whatsoever. Joe the dive master had never seen one diving in over 15 years of diving the area – we where joined by another boat from dive Kandavu – the only other divers we had seen. Ryan was very excited and I think he would have dove twice but we told Joe that he would only be diving once so we did not have a tank for him. We dove So-So pass on the left side this time "golden ledge" it was a drift dive with a max depth of 74 feet for 47 min. We saw gray reef sharks and on the inside I saw a large ulua. I had my first mandatory decompression stop for 6 min at 30 feet – all the other dives we just had 3 min safety stops at 15 feet – nice to have the dive computer to keep me in line. I am really starting to enjoy diving and feel very comfortable now at any depth. After lunch Ryan and I walked to Kandavu village – it was about 45 min walk through the jungle and mangroves – very beautiful – we met a man named Ben and he took us to the waterfall cave and I went for a swim – it was a very special place and all the villagers were so nice and friendly. A group of Kayakers that take a tour around Kandavu island came into Matava tonight – should be a fun dinner.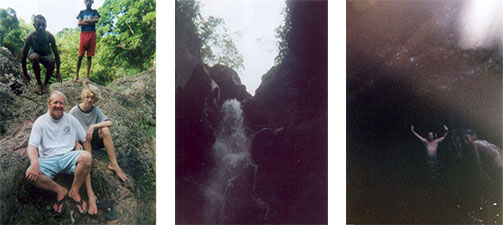 ---
Day Seven
Just saw an A-ka ka Parrot and got a picture of it! It is endemic to Kandavu – very cool. We went and dove the channel next to Ono Island. Ryan and I went down to 72 feet for 47 min. We saw white tip sharks and lots of new types of sea urchins it was a great dive and we spent lots of time with Joe going over the different types of functions of the dive computer during our break. Did the second dive on the other side of the pass – it was a deep dive 90 feet for 44 min. After lunch I went fishing with Adrian and we caught a yellow fin tuna right off the bat – about 20 lbs. Then we hooked into a nice size sailfish – I fought it standing up on 30 lb test line – it broke water five times and did some incredible tail walking – got it to the boat in about 15 min – we got a few pictures and tagged and released it. What a fish – close to 90 lbs. A fishing boat from Pacific Harbor came in to Matava with a load of guys from Oz – they caught a mahi on the way over so we had sashimi and mahi for dinner – George and some of the staff had the Kava bowl out so I donated some Kawa that I bought in Nadi and we sat around drinking and talking till 10 pm – my latest night of the trip..

---
Day Eight
The weather got bad so we hung out and talked to the Frenchman and his wife – turns out he had been hiking around the island looking for the A ka ka parrot and had not seen one – he was a little upset that we had seen one (and got a picture of it) right outside our hut! A kite surfing woman from NZ, Christine came into camp and it was Sunday so we walked back to Kandavu village with her. All the kids where out of school and they had seen Ryan and I walk by a few days earlier and so they all came and hung out with us. Two of the little girls stuck to Ryan like glue. They where 13 also. We swam in the waterfall cave and then walked back to the camp. The boys from OZ went fishing all day and it was very rough and they looked a little green around the gills when they got in – they caught an ono which we ate for dinner. Early night.

---

Day Nine 
Very stormy – our last day – said bye to all our new friends at the Matava camp and got very wet on the boat ride back to the airport. The take off was scary as it was raining so hard and the runway is so short but the two Fijian captains made it look easy. Heavy rain and wind – Ryan did not seem to notice so I did not say a word. Got back to Nadi and saw Ari – he set us up at his friends hotel – we had 9 hours so we showered and hung out and read and had some dinner – the flight home was great and over all I could not have asked for a better surf/dive/fish trip and the best part was that I got to do it with my oldest son Ryan!

Once we got back home it was back to work for a few weeks – Suzy and the kids left a few days later for our lake house in northern Michigan for the summer. Mark Anderson and I headed down to Indo at the end of June for my first real surf trip of the season!
---
The Surfing Realtor's 2006 Surf Adventure Part 2
Day One
I had been working on a boat trip to Timor for about two months – every time it looked like we had it together something came up and changed. My buddy MA (Mark Anderson owner/shaper of Honolua Underground Surfboards) and I headed to Bali not really knowing what we where going to do but I figured that it would all fall into place once we got there. Our friend Banger picked us up from the airport and got us to the hotel. He had a few beers on ice for us – it has taken me years of practice not to drink on airplanes and I think that I have actually got it down – called it an early night.

---
Day Two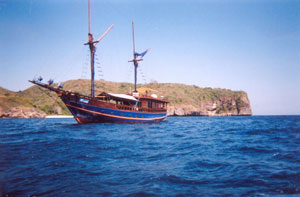 Called Josh the guy the owns the Moana boat that we where booked on and he said that he had to cancel the Timor trip due to no diesel fuel on Sumba but that if we wanted to do a Lombok, Sumbawa trip we could do that. MA and Banger surfed Kuta reef – I had a nap then we went to check out the boat. We where very impressed and cut a deal for a private charter with the three of us. Had dinner at Anjisai sushi – the tataki ahi plate and the bang bang special sushi roll topped off with some Bintang is out of this world – Life is good – Played guitar till late.

---

Day Three
Slept in then packed up for the boat trip – got our supplies and headed off to Lombok and Desert Point. Had a fun time on the boat and the cabins are very nice.

---
Day Four
Slept in then packed up for the boat trip – got our supplies and headed off to Lombok and Desert Point. Had a fun time on the boat and the cabins are very nice.
---

Day Five
Got to Scar Reef and the surf was flat – caught an Ono and MA almost got a nice size Ulua – the surf came up in the pm and we got some good 4 to 5 foot waves – the surf was good and solid but two boats came in late in the afternoon and it got packed. Mark and I ended up getting most of the sets only because we waited for them. Had a great dinner and really started to get to know the crew. Josh the captain and owner is from Austria and the first mate is Troy from OZ – has a wife on an island off Timor.


Day Six
Got to Scar Reef and the surf was flat – caught an Ono and MA almost got a nice size Ulua – the surf came up in the pm and we got some good 4 to 5 foot waves – the surf was good and solid but two boats came in late in the afternoon and it got packed. Mark and I ended up getting most of the sets only because we waited for them. Had a great dinner and really started to get to know the crew. Josh the captain and owner is from Austria and the first mate is Troy from OZ – has a wife on an island off Timor.

---
Day Seven
We got up and there were three boats so we headed off to Yoyo's about an hour away. We got some great right-handers and it was a solid 5-foot with a few larger sets – there were two other boats on it but with lots of waves it was no problem getting the sets. When the big ones came the little green board was working great. We went back and checked Scars and it was still small so we decided to hit it across the Alas straight to the west side of Lombok. This area is not traveled much by boat because it is so rough – the spider boats will not go this way but on the pirate ship it was rough but no real problem. The Moana is a very strong boat heavy indo build gaff rigged sloop in perfect shape but it was still spooky being in the wind, swell, and heavy current. We made it to Eka bay at sunset and discovered that we had almost drunk up all the beer – disaster strikes. We had a great dinner and played music until our fingers where bloody.bed.

---


Day Eight
The surf was going off at Ekas – it was about 5 foot (10 foot faces) with at least one solid 6 footer that broke right on MA and I's head. I got the largest best tube of the trip for me. We surfed for about 3 hours then headed back to Desert Point as we heard the swell was coming up big time. The coastline of Lobok is so prime for surf that I cannot imagine it not having quality unsurfed locations. So far I have read the Lazerith Venddetta – not bad mindless – Cold Mountain – Very good book, I had not remembered that I had seen the move until half way through it- Catcher in the Rye – what can I say, this book rocks – it just rammed home that boys will be boys and in some way or another we all relate to it. I just started Devil in the white city about a serial killer in Chicago during the world fair in 1889 – true story good book. We got to Desert point as sunset and it was going off – 6 to 8 foot and unreal. We decided to go to Gilli Ru Island for dinner and to restock the beer. It is about an hour past Deserts and has a dive camp on this little island. Had a killer dinner with Josh, Troy, MA Banger and I – we must of looked a bit salty as most of the other guests moved on quickly once we started drinking and talking loud. It was a very small island and the ocean dropped off deep right off the beach – we moored less than 100 yds off the sand – deep and calm.
---

Day Nine
The crew got us going at 4:30 am and got to Desert point as sunrise. We found that the surf and come up more and it was fully bombing at 8 foot + (triple over head). The tide was still a bit full and it is best on a low tide but with no one in the water we charged it anyway. I rode my new 6"10" Honolua Underground board that MA had made for me – I had not had a rounded pin in a while and was unsure how it would work but needed every inch for these waves. We got into the line up and found that it was bombing so hard with a heavy current off the point that it was a battle to try and get to the peek. We paddled for almost an hour with out catching a wave and scratching for our lives when the big ones came, it became clear why every one (about 30 guys) where on the beach watching us. Banger came out on his new 7'6" that MA had made for him. A bald headed yank about our age paddled out the back on a huge gun board (8'+) and push into a huge set way out the back and packed it all the way through to the inside – if you have never seen Deserts it is a super long wave with a huge grower section.


The barrel this guy got was off the scale. Banger got caught inside on this set and it broke his cord and his eyes where the size of silver dollars when the next wave broke on his head. He made it to the beach and called it a day. Mark and I scratched over the next one just as Banger got slammed. All it took was this guy to catch one and that was it – the next set MA pushed into one and I got the second wave. Unbelievable surf – as large as I ever want to be out at Deserts for sure. The surf started cleaning up as the tide went out and actually got bigger – but better and more make-able. This day will stay in my memory as the heaviest Deserts by far that I had ever seen or surfed. We both got some huge bombs and long ass tube rides. The new board worked great and I felt very happy to have gotten the 10 to 12 waves that I did. I got caught inside twice but found that if I took my time getting back out was not as bad as I thought it would be. About 10 guys paddled out and we all where yelling and hooting each other on for about 3 and a half hours. As the tide dropped some more it got larger and larger then started to cloud brake on the outside and turned into a huge foam ball. With the swell this huge we decided to try and catch this misto wave at Gilli Air island – Banger had been there last year and got some good 5 foot surf and said that it was an all time right. We had to extend the boat trip for a few days to pull this off but we figured it was well worth it. We arrived about 5pm and the tide was low and surf flat. We went into the island to Bangers friend Humde and ran into another of Bangers friends Mussy at his bar – we found out that Hunde was hiking the volcano on Lombk and Dein (the Indonesian playboy) was off in Europe impregnating half of Western Europe at the time. We had a few drinks then a lobster dinner. The lobsters were so large that 3 of them fed 5 of us and we had left overs. The Beach House restaurant on Gilli Tralongin island treated us right and made sure that all the Bintang beers were ice cold. After dinner we went down to Rudy's Bar and watched the Europeans bump and grind late into the night – Rudy's is known for its funny smoothies and so the entertainment was outstanding. .

---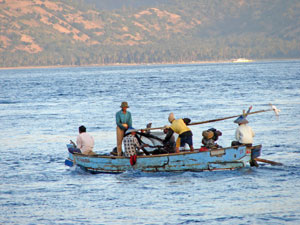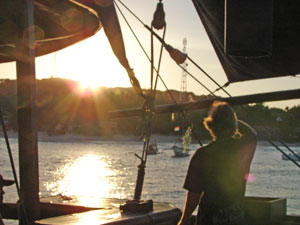 Day Ten
Got up and the surf was small but fun head high. We surfed for hours with Mussy and Hata and a bunch of the local boys from the island. After a nap we met up with everyone at Mussy's bar and headed out to the Moana to watch the sunset and had drinks and pupu's. Had a great time jumping off the rigging into the sheet glass ocean at dark. Headed back to the island and had pizza with the gang – great time with great people.
---
Day Eleven
Left the Gilly islands early and laid around and read the day away as we cruised down the east coast of Bali. I always forget how large Bali Island is and how lush the valleys and jungles of the east side are. I finished the Devil in the White City – great book. We got in at 2pm to Serangan on Bali and said good by to the crew – we left them all wearing Honolua Underground t-shirts that we had brought as gifts. We went out to Anjisai for dinner and met up with Willo from OZ. Had a great time MA and Willo went out to the bars in Kuta and I had an early night.

---

Day Twelve
Met up with MA in the morning and headed to Ubud for some shopping. MA looked a bit rough around the edges (hanging with Willo can be hard on the bod) Got some great crap and a huge brass Gong – I had always thought that a large Gong door bell would be a cool addition to the house and I was right. Got back late to Kuta and Banger made us a great Indian shrimp curry.

---
Day Thirteen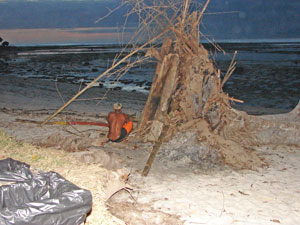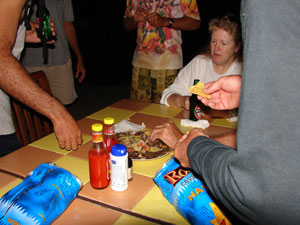 Had a lazy morning and then got our trip together to head to G-land the next day. I was starting to get antsy and was ready to get back into some real surf. MA slept most of the day and drank a few gallons of water – I think he needed the down time. That night we all went out to the Tataria Italian restaurant in Siminyak and had a killer meal – MA was starting to look human.
---
Day Fourteen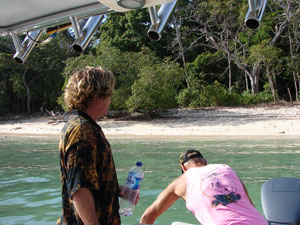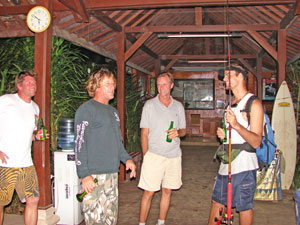 Left the Hotel at 6 am for the speedboat ride to g-land. We had hooked up with Jeff Crawford (craw daddy) from the north shore and he was suppose to join us but backed out at the last minute. It all worked out fine as it turned out that with just the four of us, me, MA Banger and Willo we had lots of room. The trip from Banoa harbor to the beach at G-land took 2 hours on the nose. It was a bit cold because of the speed of the boat but nice and dry. The boat is a North Sea 29 with twin 200 hp Yamahas. It is operated by a guy that is not associated with Bobby's camp and according to Banger, Bobby was a bit chapped that we did not take his boat (it was not available). The surf was about 3 to 5 foot so I surfed the 6'6" all afternoon and had a great time – we had bbq chicken for dinner and a guy from Hawaii had caught a nice GT so we had sashimi as well.
---
Day Fifteen
Surf came up to about 6 foot and we surfed all day – it was a real surf day and I snapped my new 6'10" Steve Morgan – I surfed the Honolua Underground 6'10" the rest of the trip. I gave the broken 6'10" to my friend Kiki – he is a great ding repair guy that has lived in the jungle at G-land for years – I have known him for at least 10 years and as I am writing this I am thinking about the great article in Surfers Journal that I had just read that included a picture of Kiki. He makes native balsa surfboards in the jungle and they are really something special – more of wall hangers than anything. We played music till late and everyone had a great time


---
Day Sixteen
It rained all night and is very cloudy and over cast this morning the surf has a heavy mist on it so it was hard to see. I hung out with Andy from south OZ – he is a good friend of Jeff's, a guy that I had hung with a few years before for a month in G-land. We went out and the surf had dropped a bit but was still double overhead on the sets. Had a great day and the sun came out about mid afternoon. Banger had been cooking us his gourmet dinners every night and it was killer to hang out with Cyrus, Nate, Jim, Andy, Brooky, Big Dog, Kiki and all the boys in camp. I must say that every year going into G-land is like coming home. I will never be done with this spot.

---

Day Seventeen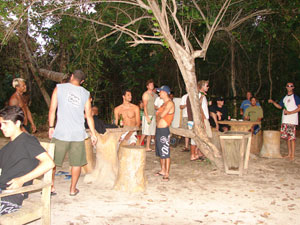 Back to Bali and then back home – we left early and the surf was on the small side (I can always say this when I am leaving because I never look to hard) had a good trip back across Java with MA, Bangers, Willo and Brooky – we had some beers and laughed a lot on the way home. One of Bangers games is that he will find a car load of girls and pay the driver to keep passing them and then let them pass us – we are so easily entertained. Got back to the hotel and had some dinner then played music for a few hours.

---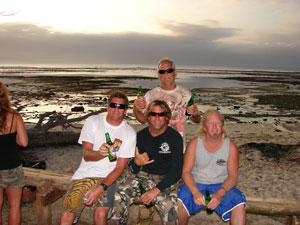 Day Eighteen
Our last day in Bali and time to pack it up – I had decided to leave a few things at Banger as I was heading back down in a few months for my Mentawai boat trip so I packed up all the shit that I had bought and put the two boards I had left back in the bag and the bag started coming apart and being that this bag had made over 15 trips all over the world figured that this would be the last one. Brook took us to a shiatsu massage place out by the airport – Brooky is very value conscious so I thought the place would be a dump but it turned out to be killer – I am not one that gets massages regularly and so I was a bit apprehensive about having the ladies walk on my back but boy was I wrong – it was the best thing ever and it made the plane ride simple and much less painful on the way home. We all went out to dinner and had a great time then MA and I headed off to the airport –

It was a great trip and getting to hang with my good friend Mark for the past few weeks was a real pleasure – it is not that often that you find yourself not hating your travel partner at the end of a type of trip but for me it was excellent. I am back to work now and feeling great about getting lots done prior to my next trip on the Indi trader III in September.
---
The Surfing Realtor's 2006 Surf Adventure Part 3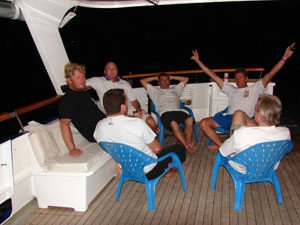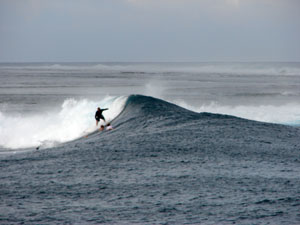 Summer 2006 Indies Trader III
This was a trip of a life time – after returning home to Maui and working my ass off for a few months I could not wait to get back to some real surf – the waves at home were fun and I did get some great south swells in Lahaina in July but the lure of knowing that there were some huge waves just calling my name was hard to ignore.
I have to admit that I did not keep a good journal during this trip and as this is months after I returned – this trip is going to be more of a general out line of what went on rather than a daily log.
---
The gang of guys was myself, Banger, Willo, Davo, Spoc, Greg, Doc Dave, Rodney and Grandpa. We hooked up in Bali and had a huge dinner the first night in at Anjisai and partied like big dogs. It is nice when you grow up and partying like big dogs means staying up to 11 pm! Anyway we had a good crew of guys and where looking forward to having a solid week of great surf and fun. We all knew each other or new of each other so with Banger and I the only Yanks on the boat it was a simple fit. Being that the next day was a travel day and we were all rested we started off the day with beers on the way to the airport at 6 am.
Those Aussies sure know how to live! An interesting fact that I did not know is that at that time you could get through security with a beer in your hand as long as you let them put it through the machine. What fun – we flew off to Java then on to Sumatra and into the new airport in Padong – I had been at this airport the year before on the first day it opened and it was still a bit unorganized but very nice. We were met at the airport and transported to the Bumimanag hotel for a few hours before we headed to the boat. We got on the boat and what is not to love – big, clean, and ready for fun. The reports had not been that great as far as the surf or wind goes. Being at the mercy of Mother Nature you roll with the flow.

Our first stop was Lances Left and we got it good – it was a bit side shore and bumpy but had some good size waves and we all got our share. Greg got first blood on the trip and a few stitches to boot – we had been just talking about how shallow the inside was getting and how a straighten out was out of the question when a large set came and what did he do? Straighten out. He was a very good sport about it but I knew that he was in a bit of pain for the rest of the trip.
We headed off to Macaronis and surfed it the next day – it was very crowded and with the new hotel there it has become the "in spot" in the islands. We then headed down to Rags lefts – last year I got one of the longest tube rides of my life on the rights but had never surfed the left – well it was about double over head and on the sets going off it's head. We surfed for hours and everyone got lots of waves.

---
The meals were outstanding and the crew could not have been more helpful and entertaining. Banger and I had brought our guitars and serenaded the boys every night. With ice cold Heineken on the boat – a real treat from Bintang – we were in heaven. We surfed Roxies the next day and it was a small but fun little left hander – we then spent a few days surfing Thunders – I have surfed Thunders many times and for the most part found that you end up dodging the sets most of the time.
This trip the size was just right for having fun – double overhead but not triple. We all got loads of waves over the next few days and had lots of fun with the other guys on other boats as well – it was a good crowed and the antics where great. Davo Davidson is a real piece of work – this is one of the nastiest fucks I have ever met – how he can be such good friend with Greg I will never understand (Greg is truly one of the best people I have ever met and we have been great friends for years). Davo took a lot of video on the trip and if I ever get to see any of it I will post a few of the most memorable moments on the site – I am sure that it will embarrass a few of you. The reality of teaching the natives some key Aussie phrases is priceless (you know who I am talking about you sick fuck).

---
Any way we surfed the next few days away in pure luxury and I got the chance to catch up with all my old friends. Spock had just had a son and from what the boys said he is sure to be as large as his dad if not bigger (quite a feat). We had a few more surfs at Roxies and Thunders then headed down to the hole to see if we could find some surf to ourselves. Nice trip down but no real waves so we took a midnight jungle boat ride up a river that will remain in my memory forever. If that little boat would have gone down (and it was leaking like a sieve with all of us on it) I am not sure how we all would have made it out. I think the crew did this on purpose – surfers are adrenalin junkies and with the surf mellow we needed something to get our blood pumping.

---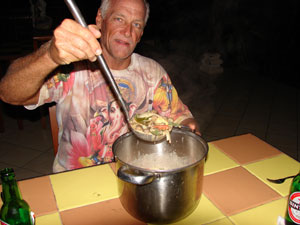 We headed back to HT's and I got one of my best surfs of the trip – light crowd and lots of waves. Over all the surf was a bit lack luster but the boat, friends and location could not be beat. One thing I have learned over the years is that you cannot always get the surf to cooperate and that is just part of the game. Being in the right spot at the right time is a talent and lots of luck. Even on the shitty days the Mentawai islands have some great surf and we caught all it had to offer. Being on a boat with my buddies and knowing how great they are all doing in their lives is priceless. I spend so much time trying to keep up with the younger guys at my home breaks and being that I am now one of the older surfers in the water almost every time I surf – hanging with your contemporaries is a pleasure.

---
The trip back to Bali was uneventful as I remember it (come on boys write me some notes that I can add in here) but when we got back we did have a nice large meal at the Tataria. Brooky, Banger, Willo, Hooky and I headed into G-land the next day for a few days of fun and we ended up getting some great double over head waves for the three days that we had in camp – it was a great time. I did see Kiki during this trip and he had some big news – he was in love – good luck Kiki – I wish you all the happiness in the world. We headed back to Bali and had two shiatsu massages before I left for home the next day and I am hooked – deep tissue massages before and after long plane flights is a must!

---
I am back to work now and life is good – the family and animals again survived my trips and are as understanding as could be when dealing with the life of a surfer. We all enjoy our time together so much and having these times apart really bring us closer together when we are all together. The real-estate market and all my wonderful clients survived my time away as well and with my newfound energy I am sure to out perform all other agents with my award winning service.

---
Just A Side Note
I hope that you have enjoyed reading of my travels and I hope that I can be part of yours. Give me a call when you are thinking about Maui – no matter where my travels take me coming home is always a pleasure – We are so lucking to live in the best place on earth I count my lucky stars every day.
Aloha from your surfing realtor, Buz 
Aloha,
Buz ~ Your Surfing Realtor