The Surfing Realtor's 2004 Indo Surf Adventure
Come travel with Buz Moffett to the magical islands of Indonesia. Buz has been traveling to "Indo" for over 20 years and has surfed many great spots. Hope you enjoy the ride… In this journey we follow Buz and "Da Boyz" on another, epic adventure….. Mahalo for joining us.
Aloha.
Day 1 – Wednesday 9/8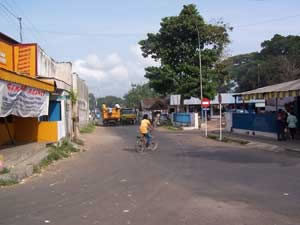 This year I changed my travel plans a bit to be able to travel with my good friend Analu Duponte. Analu is a great surfer, waterman, and Jaws tow-in veteran and has been a good friend for over twenty years. I normally travel solo (less distractions from the waves and was forced to meet new people) but being with Analu's on his first trip to Indonesia was something I wanted to see (it can be a little overwhelming on your first time into the jungles of Java). Analu was a great travel partner and put up with all my hard-core surf and relaxing with out a complaint.
I guess I need to explain that these guys are concrete artists and they did a job for me at my home in Kahana – rather than paying them they asked for a surf trip to G-land for one week. They said that if they took home the pay the wives would find better uses for the money – so understanding this I gladly agreed. We flew to Honolulu – Guam and then on to Denpsar Bali. The total travel time was about 20 hours – but we where so excited that it felt like a blink of your eye (I slept and read the whole time and the boys drank JD most of the trip). We got picked up by my Indonesian friend Alex and he took us to the G-land office and I got the boys all checked in with Made. They were off to camp on the bus (a 6 hour ride) and I went back to the Malasti Beach Bungalow hotel to wait for Analu to arrive the next night.away from each other!

---
Day 2 Friday 9/10

(lost a day when we went over the date line)
Went back to the G-land office to arrange a special boat to take us to Java from Bali (2 hours by boat or 6 hours by bus). I met Tim from Kauai and after talking to him decided that Analu needed a boat trip to Nusa Lombogin, Lombok and Sumbawa on his first trip to Indo to really get the feeling for the place – I have done these trips many times and they are always fun so I booked us on the Nusa Nusa for a 7 day trip starting in a few weeks. I went to lunch at ________________ it is right on the beach in front of Kuta Reef and you can see Middles and Airport Lefts – a perfect spot to relax have some good food and watch the surf – It was small – 2-3- foot and had about 15 guys on it. I picked up Analu from the airport with Alex at 9:30pm and went back to the Malasti for dinner and beers.


---
Day 3 Saturday 9/11


Left Bali at 6 am for the 2-hour boat ride to G-land – this is the first time I had been by speedboat and was looking forward to being there early. Arrived at 9 am and got set up in camp – It was over booked so I took a hut in the back – very marginal accommodations but quiet. Surfed for 3 hours – the surf was 3 to 5 foot (6 to 10 foot faces) and good shape. Hooked up with Brooky from Australia – had not seen him since he came and visited me on Maui in 2002 – a word of caution – if you invite an Australian to come visit, be prepared because they will show up the next year (it would be rude not to Brooky says) Brooky is a great guy and is always welcome at my house (even Suzy, my wife, is taken in by his charm or is it bull shit!) Had dinner, a few beers and an early night.



---
Day 4 Sunday 9/12

Got up early and surfed for 2 ½ hours with only about 10 guys in the water – got lots of waves and it seemed a little bigger than yesterday – surfed my new 6'6" and it is working great – I put carbon 3 fins on it and they fly. Met two guys from Cali – Mike and Papaya – and they caught 2 – 20+ pound Spanish Mackerel – great eating fish like Ono in Hawaii – Skipped lunch and went back out for a 3 ½ hour session – the waves had gotten bigger 4 – 6 and it was going off – low tide barreling – had a few real long tube rides but didn't come out of any. Had sashimi with dinner and was out by 8 pm.

---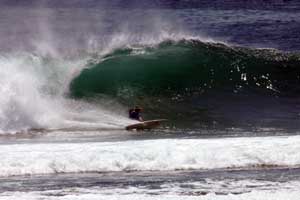 Day 5 Monday 9/13

Got up early and surfed with Ana's and Chris for almost 3 hours – waves were lining up perfect 4 to 6 foot and I got a few real screamers – my paddling arms are starting to kick in and the stretching and light yoga are really paying off – feeling strong! Today is boat day so we lost 12 guys and gained 22 – over booked even worse so every one had to move to accommodate the new guys. I stayed put (advantage of being in the low rent district). Went back out at 11 am and surfed 2 ½ hours – waves still good and I finally came out of a huge tube ride! The only one that saw it was a guy from Japan – he gave me the big thumbs up – where's the photo guy when you need him? Walked out on the reef to get some shots of Analu in the afternoon – got a few then could not help myself and ran back and grabbed my board and surfed till dark – the waves were dropping fast and there where a lot of Brazilians in the line up. Found out that there was a photographer in camp and he had his lap top out after dinner and was showing what shots he had gotten the past few days – found a few of me but not the big tube ride. Had dinner and was out cold by 8:30.

---
Day 6 Tuesday 9/14

Got up early 5 am and checked the surf – way down – 2 – 3 foot – so I went fishing with Mike and Papaya (he is a civil engineer from Palos Verdes and Mike is a contractor from the same area) Marco's the Indo boat driver had been promoted – last year it was Bushy driving the fishing boat – now Bushy drives the speed boat from Bali. Had a few strikes but nothing was sticking – took a nice long cold water shower – did some laundry – cleaned the hut and went looking for toilet paper – Ananlu got a massage from a lady in the G-spot camp next door and said that she almost hurt him and be ready if you have her rub you. Went for a surf after lunch and even though it was small 4 to 6 foot faces the 6'6" worked great and I had some nice long waves. Had a few beers from the boys from Jungle camp Cory, Greg and his son Ali and was in bed by 9.

---
Day 7 Wednesday 9/15
Surfed early and got some great waves it came up a bit to 4 to 5 foot (when I say how big it is I judge from the back so it is double on the face of the waves – just for those of you that don't know me) the 6'6" was performing out of this world – went over the falls on a big set and the fin hit me on my thigh and I broke out the fin box (it's always the case that the best boards break too soon) I took the board to Kiki – an Indo guy that I have known for years that fixes boards at the old Tiger camp – He learned from Camel (west Australian surf hero and good friend) how to do it right. Kiki said it would be done by noon the next day. Read most of the day then walked to the key hole for some fishing – 1 ½ hour walk each way down the beach is a good work out – Mike and Papaya came with me. I caught a rockfish and a huge stick fish but no Travellies – GT's – we could see them but they would not bite the plugs. I brought both my fish back as they where not that good eating and the thought of carrying them back did not sound like fun. I had bought extra beer in Bali before we came out on the boat as in camp you get 4 beers per day and if you are going to have a little party it is nice to have some extra – The next day Chad, Chris and grandpa Bruce were leaving back to Bali for one more week so I put a few cases of beer in the cooler and stayed up late with the boys and a Kiwi named Jamison – gave him my email address – and may have invited him to come stay (I sure that if I did he will be showing up this winter!)


Day 8 Thursday 9/16

Small kind hung over today – slept in to 7:30 – Hung out at the hut and read to 10:30 – got the 6'6" board back from Kiki – he did a great job on the repair- went out surfing at 1 pm and surfed till 5 – 3 to 5 foot and real clean and perfect – got lots of waves and the board was ripping. Analu caught a nice size Travellie off Kongs (the outside most surf break) and we had it for dinner – today was CQ's (Charlie Quisnell's) 55th birthday – Charlie is a great friend of mine from Maui and he and Eddie "I get um" showed up in camp this morning. You could write a book on Charlie's life but lets just say he has been there and is one of the few to make it back and still rip at 55. The crew in camp made Charlie a cake and a large glass of jungle juice (Indonesian Arak liquor) Charlie has been in the program for about 10 years so had to pass on the jungle juice (thank god). On the way back to the hut Brooky almost stepped on an armadillo. Got a great sleep and learned a good tip from Mike – put baby powder in your bed on the hot nights.

---

Day 9 Friday 9/17
Surf came up 4 to 5 with some 6-foot sets – went fishing on the boat with Mike and Papaya early and hooked up a nice size Spanish mackerel. Got it to the boat but it spit the hook. Surfed from 1 to 5:30 on the 6'6" and got some great waves – the board works perfect but it is starting to look like it has been through a war (getting beat up) and it has only been in the water 10 times or less. It seems a bit light on the glass job – hope it survives the trip. Had a little hassle from a guy from Aus – he dropped in on me then gave me some attitude. After dinner Cory and Gary came down from the Jungle camp and we met up with Jungle Jim from Aus (had not seen him in almost 10 years). He, Analu, Corry, Garry and I went down to Jungle camp for a few beers – as soon as we walked in camp the guy with the attitude was there and apologized – his name was Andrew. Ali and Analu got off on the wrong foot and for a few minutes we had some tension. Walked back to Bobbies camp and Jim got out his harp and we played music until midnight.

---

Day 10 Saturday 9/18
Slept in to 7:30 – surf came up 5 to 6 with a few larger sets – after breakfast read for a few hours and then took out the peach board – a new 7'6" that had not been in the water. What a pleasure being able to catch all the waves early – surfed for 3 hours and caught most of the largest sets that came in. Board was working perfect. Caught a large walled up set and dodged the tube at the end of the wave (never – never dodge the tube!) and got axed by the lip big time and the fin on the board cut my foot a good one. It hit me so hard that it knocked out the fin (a carbon 3 – so bummed to loose it) and put a lot of blood in the water. I had Puma (camp manager) look at it and he decided that it would heal without stitches. (This cut ended up not heeling for over 5 weeks) Brooky helped me clean and dress it and did some energy healing on it (he may be a wizard as well) and it feels ok. I think I have a deep bruise as well.

---
Day 11 Sunday 9/19
New group came into camp – waves dropped to 2 – 4 – still good – my foot feels ok and surfed from 8 to 11 am and again from 1 to 4 – road the 6'6" and ripped it up. Played music with Will from the G-spot camp – I had met him 5 years earlier in Nusa Lumbogin. Got a massage from a shell picker lady – very good – Analu had one as well.



---

Day 12 Monday 9/20 
My eyes are really starting to go – I don't know if it is age, sun or what but reading has become a problem with out good light. The waves have gone down even more and I ended up reading most of the day – no surf. With the small waves I decided that we would leave camp one day early and get back to Bali for the boat trip and I have not seen Banger yet (one of my best friends that I try and hook up with every year) and am looking forward to it. Jim had come in camp with a yank that lives in Aus "Big Dog" super nice guy and incredible fisherman – We ate sashimi from a huge (50 lb) travellie that he had caught then played music with Will on guitar, Mike from Maui on drums, Jim on the harp and me on bass – we got most of the camp singing along and pounding on the tables – Cory, Gary and Ali came up from Jungle camp.

---
Day 13 Tuesday 9/21
Took Fabio's boat back to Bali (Fabio is a very Cool Brazilian that lives in Bali part of the year and has built his own hut in Bobbies camp and has his own boat to get back and forth – very cool) the trip took a few hours with Analu and Brooky. Checked into the Malasti and had our firt hot shower in a few weeks. Went out to _______________ for sushi with Banger, Brooky and Analu and it was great and cheep!

---

Day 14 Wednesday 9/22

Waves came up so we headed to Benlongins and caught it 4 to 6 foot with big long left tube rides on a shallow inside reef. No pictures but some great waves and mellow crowd. This would be a nice spot to stay some day. Came back to town and went to dinner at ________________ a great Italian spot with Chad, Chris and Bruce (their last night). After dinner played music with Banger.
---
Day 15 Thursday 9/23 

Got up early for the boat trip and found out that it had been delayed for one day. Surf had gone down so I hung out by the pool and read and slept most of the day. Went to lunch with Ana's at the seafood place on the beach __________________ he had steak and I had lobster. Had a nap then up to Bangers house for home made Tortilla soup and back to the sushi place for dinner (it was so good Analu had a dream about it). Early night.

---
Day 16 Friday 9/24


Got picked up at noon – 3hrs late – for the boat trip and drove to Sinnor and to the boat to Nusa Lombogin – surfed ship wreck till dark (first right we had surfed and it felt good). It was 4 to 5 and a little on shore but still lots of fun. Stayed the night in Lombogin. A total of 12 surfers on the boat and Ana's and I have almost 20 years on most of them. Most of the guys are from Santa Cruz and two surf chicks that live on Maui now but grew up in Santa Cruz – three guys from San Diego that I saw in G-land but did not meet. The boat Dusa Dusa is full to the max.
---
Day 17 Saturday 9/25

Got to Lombok – desert point and it is 2 – 3 foot and just not really doing it. I spend most of the day reading and watching the surf hoping that it will come up. It never did. We all decided that it was best to stay and see what the morning would bring (desert point is the best spot on the trip) and I busted out my bottle of Johnny Walker Black that I had been saving to drink up a swell. This seemed like the perfect time to do it so we did. I got the whole boat on it and we had some good bonding time.

---

Day 18 Sunday 9/26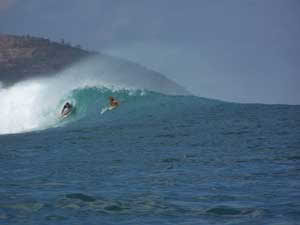 Got up early 6 am – hung to the gills and the waves had come up to 4 to 5 foot and perfect. We were the only boat and I was the first one in the water. Surfed for 4 hours – it was going off – lots of long tube rides and got lots of sets. The food on the boat is great – Left deserts for the 12 hour trip to Sumbawa and read the day away and took it very easy after last night.
---
Day 19 Monday 9/27

Woke up at Scar Reef in Sumbawa and the surf looked small – when we got in last night it seemed huge. The kids made the call to go to Yoyo's – a right one hour away. We made the trip and went by a huge gold mine owned by Americans in the middle on no place – looked like something out of a James Bond movie. The surf was huge at Yoyo's 6 to 8 foot with some full clean up sets and dumping hard on the reef. I took out my 7' board for its first surf and got some of the largest waves of the trip so far. Most of the guys did not come out – they had very small boards. We went back to the boat and found out that scar reef had turned on and was going off 6 to 8 foot as well. We rushed back and got some great waves. Surfed for 2 more hours and got some real sets – it was a little on shore but very very good. I waited for the evening glass off and it got sooooooooooo good that I surfed like a mad man and tried to catch every set. It was going off the scale and I was like a kid in a candy store. I got some of the best waves of the trip for sure. I had been to scars twice before and never got it even close to this size – the guys broke 7 boards this day and I think everyone had at least one moment of fear. For almost 45 min. We had a non-stop set that kept us taking off on back-to-back waves. What a day –

---
Day 20 Tuesday 9/28
During the night the surf got maxed out and we where all sure that the next day was going to be a hero session. It was full moon and we sat on the deck and watched for hours. It looked 10 foot (three to four times over head) and all I could think about was ridding the 7'6" peach – not much sleep – Got up in the morning and the surf had come way down – two boats showed up and headed down to Yoyo's – we hung out and surfed for a few hours then headed back to Dessert Point and Lombok. Early night ran out of beer by 7 pm.
Day 21 Wednesday 9/29
Waves small at Deserts – we waited for the tide but the swell was just gone so we headed back to lombogin. 2-hour trip. Surf was small there as well so Dusa (boat owner) Analu, Winter and I went to the Cock fights – Dusa won big money on the first two fights but then the police raided the fight and we all took off running – Dusa was very happy and Indo cock fights are very funny – lots of yelling and waving. I never saw the police but ran with the crowd. It was frickin hilarious. Had lunch on shore with Zake and Winter. Nusa Lombogin is a beautiful island with a few good quality surf spots that I have been to 3 times before – I have always loved it here because it is so mellow and has very few cars. Very very different from Bali. I will be back – maybe bring the family and hang out for a few weeks. We went and got some more beer for are last night on the boat and had quite a party with the crew – every one had a great time and the Nusa Nusa is a very fun Indo boat. Dusa's dad came out (the real owner of the boat) and we had a nice talk, he is just a few years older than Ana's and me and had been running boats for years. After hanging out with the kids and crew it was nice to talk to an adult. – Slept out side under the moon and stars – it was great.

---
Day 21 Wednesday 9/29
Did some work in the morning and finished my 4th book of my trip.  I started my son's Ryan's favorite book "Dune"  by Frank Hurbert – not much of a si fi reader but will give it a shot.  Surf about the same as yesterday – perfect tides – if we had some swell it would be all time.  Jesse is saying that he is ready for some more size as well.  Dave Thomas is being trained by John Heppler to take over the photo biz at Gland.  Dave said that he would come out today and get some water shots of Jesse!  I have know Dave for about 10 years and am really happy that he is doing this – he is not only an incredible surfer but also a very nice man – living full time in Indo can be hard for a young guy some times but Dave has found his nitch I hope and with his new wife and baby is really growing into a great man.



Day 22 Thursday 9/30
Waves still small so we headed back to Bali – we had a big day ahead of us as Bangers had it all planned out that we would drive to Java this afternoon and spend the night in Bongiwongi. We got back to the Malesti and got a room for a few hours to clean up – had a great shower and Banger and Brooky showed up and said that we would be leaving for Java by 1 pm – He had been pre cooking meals for a week and he said that this is going to be the best food he has ever taken to camp and for a guy that goes in and out of camp 10 or 12 times per season this really something – he is an incredible chef. We got to the hotel in Bongiwongi at 7 pm and had an excellent Chinese meal and went down early.

---
Day 23 Friday 10/1
Brooky woke us up at 5 am and we left the hotel for the final part of the van ride to Gragingon village and the boat trip to camp. When we got to camp Katuk put us in a great hut this time and I finally had a chance to organize my duffle bag – being that I had been living out of it for over 3 weeks it was a disaster. The surf was very small and I found out that my 6'6" had a buckle (almost broken in half) the last time I had surfed it was at Desert point 5 days ago and the last wave I had out there I went straight over the falls on so I could have done it then or it could have happened on the trip back to camp. Kiki had gone back to Bali so I had no one to fix it. Bangers made seared Ahi for dinner with creamed zucchini and rice potatoes – excellent – we played music after dinner. Kiva, Tide, Jason and Emma had come into camp from Maui and Charlie and Eddie where leaving.


---
Day 24 Saturday 10/2
Small waves – I have never seen it so small at G-land. Went for a long swim out to the surf with Jim and Bali John (from Maui) Jim set a grueling pace and my whole body felt the burn – we caught a few waves body surfing then swam in. Walked to the small pass in the afternoon with Ana's, Jim and John – I have still not caught a real fish this year – maybe it is just my luck after last year killing it with Jeff. Analu caught a nice fish and we had blackened chicken burritos for dinner, played music and had sashimi.
---
Day 25 Sunday 10/3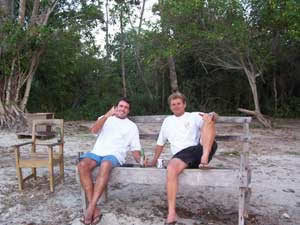 Still small but came up a little – went trolling with Jim and Tim from Cali – Jim had a nice fish on but lost it. He had lost over 10 fish at this point in
his trip. I went out for a long surf with Jim and John on the 6'6" (I thought I should just let it break all the way and leave it) It felt ok but it bent a little on the larger waves – any real waves and it will be all over for the board – oh well it has had a good life. I bought a few lobsters from the lobsterman and had them for pupu's then had Mediterranean soup and potato dumpling with marinara sauce for dinner. Fabio and Big dog had brought in steak and big duck (turkey) that they bbq'ed and we had some of that as well. We got the band together and put together 8 songs that we could really play and sing well – Bangers was complaining that we needed dancing girls so big dog went to the shell pickers camp and brought two back, it was one of the funniest thing that happened on the whole trip when he came walking back in with these two young girls – we all laughed for a long time. We all went wild and played music till midnight – rumors of a new swell tomorrow.
---
Day 26 Monday 10/4
Surfs up! Went out for a marathon 6 hours on my 7' board and got some of the longest tubes of the trip – at this point I am surfing real well and can paddle for ever. I was even coming out of most of the tubes for a change. Got two double barrels and was a very happy man. Had Tortilla soup with extra chilies for dinner – missed breakfast and lunch – trying to loose a few more pounds now that the trip is winding down. The word is that there is a huge swell coming the day after we are going home and I am very tempted to stay. Played music with 3 Kiwis – very very nice guys – Tippy, Anaru and Ricki along with Jim – had a great time.

---
Day 27 Tuesday 10/5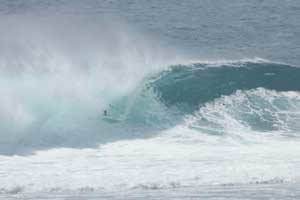 Surfed twice got some great waves 4 –5 foot and lots of fun. Had fish tacos for dinner with sashimi and went to bed early – all the surf the last few days have caught up with me.
---
Day 28 Wednesday 10/6
Surf went down 3-5 foot surfed one long session and then started to pack up my shit for the long trip home tomorrow. Had a great dinner of Indian Gau and played music with Banger, Jim and the three Kiwis – had a great time.

---
Day 29 Thursday 10/7
Left camp at 5:30 am – small kind hang over and took the boat to the village and then the van back to Bali with Analu, Bangers, and Brooky, Had beer and snacks on the way but slept for the most part. Got to Kuta around 3 pm – did some shopping, got cleaned up then went out to dinner at the sushi place with Big Bog, Jim, Bangers, Analu and Brooky. Had to rush to the airport and almost missed the plane home. Bangers has a theory on airports that has some basis to it. If you show up real late they will rush you through customs, forget to charge you for your boards and maybe even up grade you to business class if they do not have isle seats available. Well it worked out close to perfect except we did not get the upgrade. Had a long trip home and slept most of the way. Got in to Maui at 9 pm the next day and was picked up by my beautiful wife Suzy and was tucked into my own bed by 10pm by my two boys Ryan and Jesse.

---
Just A Side Note
It was a great trip and one that I will not soon forget. Please let me know if you would like the names and addresses of any of the restaurants or hotels – I have been traveling a long time and like to eat well! I have been home now for almost a month and have just been so busy that I had not had time to put the trip up on the site. The surf has been great here at home and I am very happy to live in a real paradise called Hawaii. There is no place like home. I am fully back to work now so give me a call or drop me an email and let me find you a piece of Paradise as well.
Aloha,
Buz ~ Your Surfing Realt